Research conducted by Dr. Lavelle Hendricks, local pastor and Professor of Psychology at Texas A&M Commerce, will be featured in a Fox News program at 9 p.m. Thursday, May 27, 2021.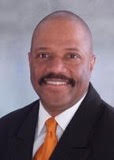 The feature story is on the Black Lives Matter Movement and was submitted to Fox by Shaun Rabb, reporter for Channel 4 TV. The televised presentation is based on research and writings published by Hendricks and colleagues from the TAMUC faculty. The program will provide a further opportunity for the Dallas- Ft Worth viewing audience to follow work done by various University department heads on the Black Lives Matter Movement.
Catch the program on Fox News at 9 p.m. Thursday May 27, 2021. Dr. Hendricks of Commerce, Texas, also serves as Pastor of East Caney Missionary Baptist Church in Hopkins County and is founder of the annual Martin Luther King Awards (pictured below).