If you like live theater or just supporting local student thespians, you'll want to be sure to mark May 13 and May 18 on your calendar. The Sulphur Springs ISD Wildcat Theatre Programs will be displaying their skills in two free productions offered on those days.

The Sulphur Springs High School Wildcat Theatre will present Don Nigro's "Cinderella Waltz" starting at 7 p.m. Thursday, May 13, on the stage at the SSHS Auditorium. While this senior showcase is offered free of charge, donations will be accepted for any who feel generous to help the SSHS theatre program offset costs and provide funding for future productions.
According to Concord Theatricals, the Samuel French, Inc., title tells the story of Rosey Snow, a girl "trapped in a fairy tale world that is by turns funny and a little frightening, with her stepsisters Goneril and Regan, her demented stepmother, her lecherous father, a bewildered Prince, a fairy godmother who sings salty old sailor songs, a troll and a possibly homicidal village idiot."
"Cinderella Waltz" contrasts the familiar happily ever after fairy tale with the darker, more ancient disturbing tale recorded by the brothers Grimm. Don Nigro's version is an adult fairy tale which blends "grotesque farce and romantic fantasy."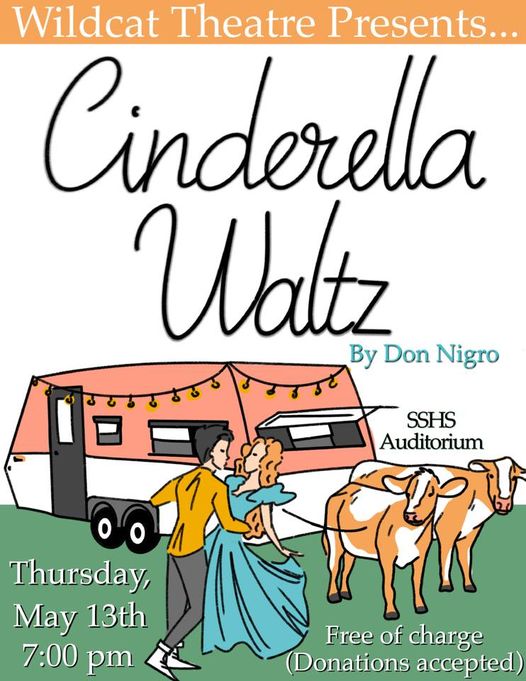 The Sulphur Springs Middle School Wildcat Theatre then will offer a musical program at 7:30 p.m. Tuesday, May 18. The SSMS theatre students will perform Roald Dahl's "Willy Wonka Jr.," on the SSMS stage. The doors will open for seating at 7 p.m.
The play is based on Dahl's classic novel "Charlie and the Chocolate Factory. The play features words and music by Leslie Bricusse and Anthony Newley, which were adapted to the stage by Bricusse and Timothy M. McDonald.
 As is the case with the movies based on Dahl's book, "Willy Wonka Jr." tells the story of candy manufacturer Willy Wonka's contest. Golden tickets are hidden in candy bars; those who hold golden tickets win a free tour of the Wonka factory and a lifetime supply of candy – provided they follow Wonka's rules. Four of the five children who take the tour are brats, while a fifth child, Charlie, is more likeable. Those who do not follow the rules face calamitous consequences.