Sulphur Springs ISD trustees approved 60 personnel changes Monday evening during their regular board meeting; among the 1 1/2 pages of SSISD personnel changes were four notices of retirement, nearly two dozen resignations and new hires, and more than a dozen personnel job/campus swaps which will impact every district campus. The oath of office was administered to two incumbent trustees and board officers were agreed upon by trustees.
Board Matters
SSISD Tax/Election Official Sandra Gibby administered the oath of office to trustees Jason Dietze and Kerry Wright. Both were unopposed in their bids for reelection to the board, so the district was able to cancel the election for two seats on the SSISD Board of Trustees, saving the expense of hosting an election. Dietze sai8d this begins his fifth term on the school board and Kright estimated about 4 1/2 terms of service for himself.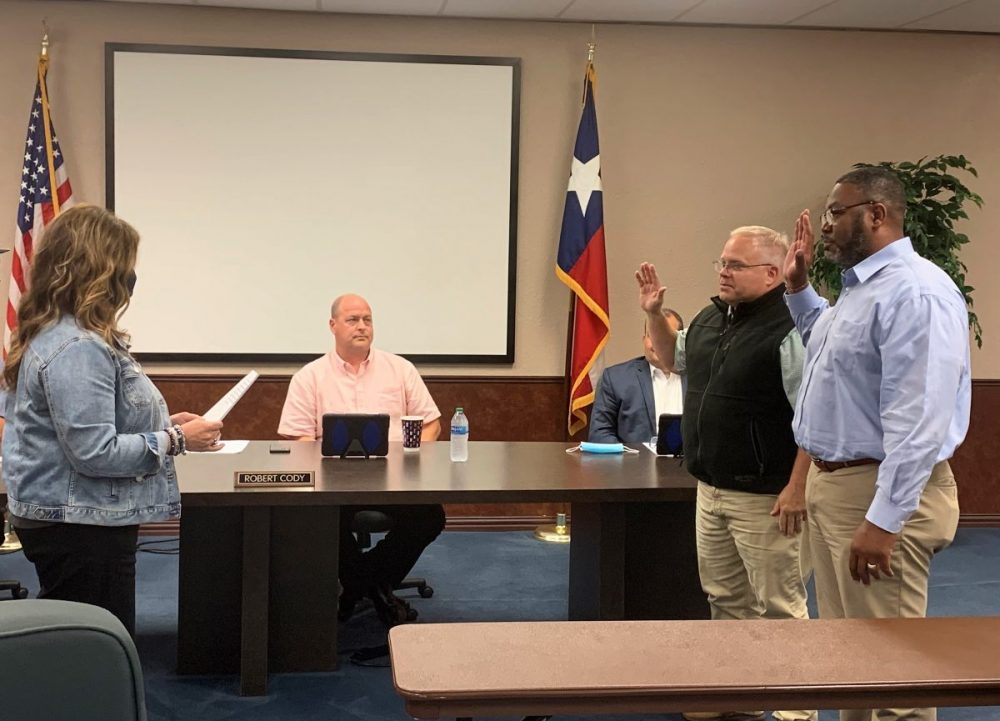 The trustees had the option of reorganizing its board and selecting new officers. However, in a previous year, the board opted to have officers serve two-year terms. Thus, Robert Cody will remain board president, Craig Robert vice president and Dietze secretary of the school board.
Retirements
Three of the four retirements are Middle School employee; Nancy Kirby is retiring as counselor, Gwen Perry as secretary and Zina Young as a special education aide at SSMS.
Patricia Morgan also turned her notice of retirement as a special education aide at Sulphur Springs Elementary.
Resignations & New Personnel
At Barbara Bush Primary, the two resignations accepted were from Laura Badgett, a second grade teacher, and Misty Carr, a special education aide. Approved to join the staff at Bush Primary Cassie Canup as a special education aide, Marcie Porter as a library aide and Krissy Pyburn as an instructional aide.
Resigning from Bowie Primary are Esme Aguilar as a library aide and Tiffany Kral as third grade teacher. New hires approved for Bowie include Esther Gall and Tina Phillips as specials education aides.
Among the staff resigning from Travis Primary are library aide Monica Hernandez, second grade teachers Kimberly McNeal and Yadira Preciado, and first grade teachers Sarah Phillips. Serra Bowley was approved to become the new second grade teacher and Harlee Guzman as the new first grade teacher at Travis Primary.
Leaving Sulphur Springs Elementary will be special education aides Melva Dunan and Cheryl Vickery, Title I aide Eileen Lira, and fifth grade teachers Kristin Potts and Natalie White. New to the SSES staff will be Pauliane Chester as a behavior aide, Becky Ringler-Endsley as a special education aide, Jennifer Moore as an elementary library assistant, Kimberly Rhodes as fourth grade teacher, Melina Rivera as a Title I aide, Jacy Sorley and Jennifer Farrar Walters as fifth grade teachers, and Jennifer Young as a music teacher.
Resigning from Sulphur Springs Middle School are Alexsa Baylu8s as English teacher and Hollie Watson as a sixth grade teacher. Approved for hire at Sulphur Sprigs Middle School are Zachary Griffin as an assistant band director and Travis Willoughby as a physical education teacher and coach.
Sulphur Springs High School is losing four teachers and an aide: history teacher and coach Kevin Hatcher, English teacher Cady Jackson, social studies teacher and coach Bryan Jones, special education teacher Kristin McKinney and Connections special education aide Melissa Hastings. Approved to join the SSHS faculty were Trent Easley as a PE and credit recovery teacher and coach, and Neal Parsons as a social studies teacher and coach.
Lamar Primary also will be gaining two employees, Erika Fierst as a special education aide and Christie Phillips as a counselor.
Approved as the new principal at Austin Academic Center was James Payne.
Job & Campus Swaps
To fill some of the other positions still open, 14 SSISD employees will be changing jobs and/or campuses/classrooms.
Hannah Crowson is moving from Lamar Primary, where she's been assigned as a virtual teacher, to Barbara Bush Primary to teacher second grade. Title I aide Misty Cline will remain on the Lamar campus but was approved to become a library aide. Patricia Cooper will be moving from Lamar, where she teaches third grade, to SSES, where she will be the behavioral interventionist.
Mandy Barrett is moving from SSES, where she teaches fourth grade, to Bowie Primary to teach third grade. Clarissa Holly Willis will remain at SSES, but will switch from fifth grade teacher to fifth grade reading interventionist.
Joe Boedigheimer will still serve as an academic specialist but will switch from Barbara Bush to the SSMS campus.
Four employees will remain at the Middle School campus, but will be swapping jobs, and one will move from SSMS to SSHS. Sara Brown, PEIMS clerk, will become a campus secretary. Rachel Draper will move from academic specialist to the assistant principal's office, while Jeremy Scroggins is giving up his role as assistant principal to become testing coordinator at SSMS. Jessica Gilbert, a special education co-teacher will be teaching eighth graders. Easton Silman is giving up duties as a PE teacher and coach at SSMS, in order to teach social studies and coach at SSHS.
Two aides and a teacher at Austin Academic Center will remain on that campus, but will be switching up their duties. Brandy Fisher will move from instructional aide to special education aide, while Jennifer Maldonado moves from special education aide to instructional aide. Lindsay Ramirez will be teaching DAEP students instead of special education students at AAC.