May has been a busy month at the Sulphur Springs Senior Citizens Center, with fun activities starting back up and a donation coming in to help with the needs of the Sr's Center. Director Karon Weatherman shared the timely information with KSST.
Oncor gave Meal A Day a $4,000.00 donation on May 11, 2021. We are so appreciative of every donation we receive. It helps to keep us going. Shown in Photo: Mary Ballard, Karon Weatherman, Larry Willis, Mark Rasmussen, Bea Rasmussen, Cecil Toenigges.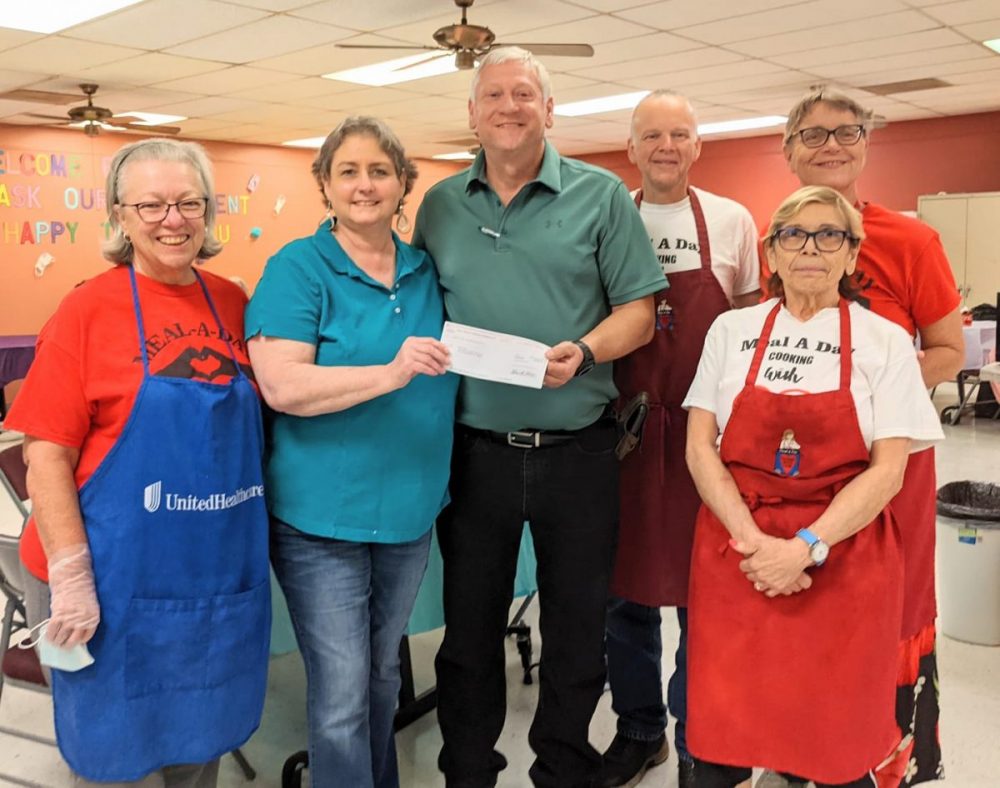 o
More fun activites are starting back up for Seniors. Thursday, May 13th we will start playing Balloon Chair Volleyball at 1:00. This should be lots of fun, too. We will play on the 2nd Thursday of each month. We also play LCR at 10:45 on the 2nd Thursday of Each Month. Come and try to win a $ 20.00 Gift Card.
Also on Thursday, May 13th at 1:00 PM will be the Volunteer Fair.. It will held at the ROC at 1st Baptist Church. I have 21 Agencies that have signed up that are looking for Volunteers. If you have been thinking of volunteering and didn't know where, you are welcome to go check the Volunteer Fair out and find a place that fits what you want to do. There will be lots of Door Prizes and Refreshments there for you.
On Tuesday, May 18th from 9:00 – 12:00 Noon there will be a 55+ Health Fair. It will also be held at the ROC at 1st Baptist Church. I have 56 Vendors that will be set up. You will be able to check them all out and see what they have to offer. If you make decisions now when you DON'T need something you will know what you want when you DO need assistance. Don't let other people make those decisions for you. You can get educated on what is out there for you. Each Vendor will bring a $ 25.00 Door Prize that you can have a chance to win. You can't win if you don't show up. Also we will have a Hot Dog Lunch for you to enjoy from 11:00 – 12:30. It will be over in the other side of the ROC.
Don't forget BUNCO on Thursday May 27th .. It is always on the 4th Thursday of the Month at 1:00 PM Everyone brings $ 5.00 and a Snack to Share. All the money is paid out in Prizes at the end of the Game. If you don't know how to play it is easy. You can learn in just a minute or two.
On Wednesday, June 2nd at 11:00 Debbie Sheley with the Retirement Gals will be at the Senior Center to talk about Medicare Choices for 2021. She will be Serving Pie and Coffee for everyone that attends. Come get educated. She is very knowledgeable.
On Friday, June 11th at 1:00 PM the 10 Ladies that have signed up to compete in the 2021 Ms Hopkins County Senior Pageant will have a Contestant's Tea and then Rehearsal for the Pageant. Saturday Night at 6:00 at the Hopkins County Civic Center you can come and cheer on the ladies in the Pageant. The cost is FREE thanks to our Sponsor. I have 10 ladies that are competing this year. There is always room for more if you decide you want to compete. Just let me know.
The Parkinson's Support Group is starting back on Tuesday, May 18th at 11:30. This will be the 1st support meeting since we stopped for COVID.
Tuesday, June 29th at 1:00 PM will be the Annual Ice Cream Freeze Off. I know everyone loves Ice Cream.. You will want to come and sample as many as your tummy will let you. It is always a fun delicious event. Bring Your Friends.
I have an Affiliated Driving Course scheduled for Thursday, July 29th at 10:00 AM if you would like to get 10% off of your Liability Insurance you should take this course.. It is a good Refresher Course on Driving Situations and New Driving Laws. This class is also good for a Ticket Dismissal.
Also don't forget that Line Dancing Class will be EVERY Tuesday now at 1:30! AND our Monthly Birthday Party is on Friday, May 28th at 10:45. If it is your Birthday Month you will receive a Birthday Gift from our Sponsors!