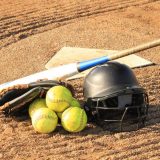 The Saltillo Lady Lions softball team jumped out to a quick lead and never looked back, besting Avery 19-6 on Saturday, May 1 in the Bi-District round of playoffs.
The Lady Lions came out of the gate swinging for the fences, as Saltillo cashed in on three runs in the first frame to make it 3-0 after one inning.
While the Lady Bulldogs were able to get 4 runs of their own over the second and third innings to take the lead at 4-3, the Lady Lions pounced on their next opportunity at-bat, pouring on 12 runs in the bottom of the third to make it 15-4 over Avery.
Saltillo then proceeded to score 4 of the final 6 runs en route to a commanding 19-6 victory over the Avery Lady Bulldogs in the Bi-District round of playoffs.
In hitting, Chandler Bain went 2 for 4. Julianna Giles was 3 for 3 behind the plate with a walk. Releigh Redar had a solid night as well, going 3 for 4. Paisley Kastner, like Giles, was 3 for 3 on offense with a walk. Maddy Smith went 2 for 3 behind the plate and was hit by a pitch.
Raegan Speir went 1 for 3 versus Avery with a walk. Gabby Ross was 3 for 4 in the win. Ofelia Cabrera batted 1 for 4 on the evening and was hit by a pitch. Cali Morris rounded out Saltillo's offense, going 1 for 3 at bat with a walk.
Chandler Bain got the win for Saltillo after pitching 4 innings, allowing 6 runs. The Lady Lion pitcher struck out 2 Lady Bulldogs but walked seven in the victory.
With the Bi-District win over Avery, 17-1A District champion Saltillo's overall record increases to 7-6.
Next up, the Lady Lions will be participating in the Area round of playoffs, held in two weeks, with the opponent, date, locations, and times yet to be determined.