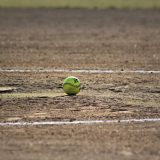 The Saltillo Lady Lions softball team gave up late runs that proved too much to handle, losing to Bloomburg 3-1 on Friday, May 14 to conclude their season.
The two teams looked to be involved in a pitchers duel, as through five innings, both teams had only accumulated 4 hits combined.
That changed in the top of the sixth, when with two outs, two Bloomburg batters got timely singles, the second of which crossed home to break the 0-0 tie for a 1-0 lead for the Lady Cats.
Saltillo was able to get a single from starting P Chandler Bain, and Ryleigh Redar grounded out to the Lady Cat second baseman which gave Bain enough time to cross home and even the score at 1-all in the bottom of the sixth.
Unfortunately for the Lady Lions, Bloomburg struck again in their next at-bat, thanks to two singles, two doubles, and a fly out which turned in to a 3-1 lead for the Lady Cats in the top of the seventh.
With their season on the line in the one-and-done game, Saltillo was able to get a single from lead-off batter in the bottom of the seventh Maddy Smith, the Lady Lions was picked off at second from a fielders choice to make it two outs.
While the next Saltillo batter Ofelia Cabrera was walked, Chandler Morris was struck out to end the game and end the season for the Lady Lions in a 3-1 loss in the 1A Region 3 Regional Semifinals of softball.
Chandler Bain got the loss, but had a solid outing before Bloomburg was able to pull the game out in the top of the seventh. Bain pitched a complete 7 inning game, giving up 3 runs on 8 hits. Bain struck out three Lady Cat batters and walked two.
In hitting, Bain was 1 for 3 with a run and a walk. Both Julianna Giles and Ryleigh Redar were 0 for 3, but Redar was able to get an RBI. Paisley Kastner fared a bit better at 1 for 3. Maddy Smith was 1 for 1 and was walked once. Ofelia Cabrera went 0 for 2 behind the plate. Regan Speir, Gabby Ross, and Chandler Morris all went 0 for 3 on the evening.
While it was a tough way to end the season, it was an impressive run nonetheless.
Saltillo's season record finishes at 8-6 overall (6-0 district). The Lady Lions were 17-1A District Champions and beat Avery in Bi-District 19-6 and Union Hill 1-0 in the Regional Quarterfinal before falling in the Regional Semifinals to Bloomburg.