He's a Ten! The Story of the Oldest Registered Paint Horse in America
by Enola Gay Mathews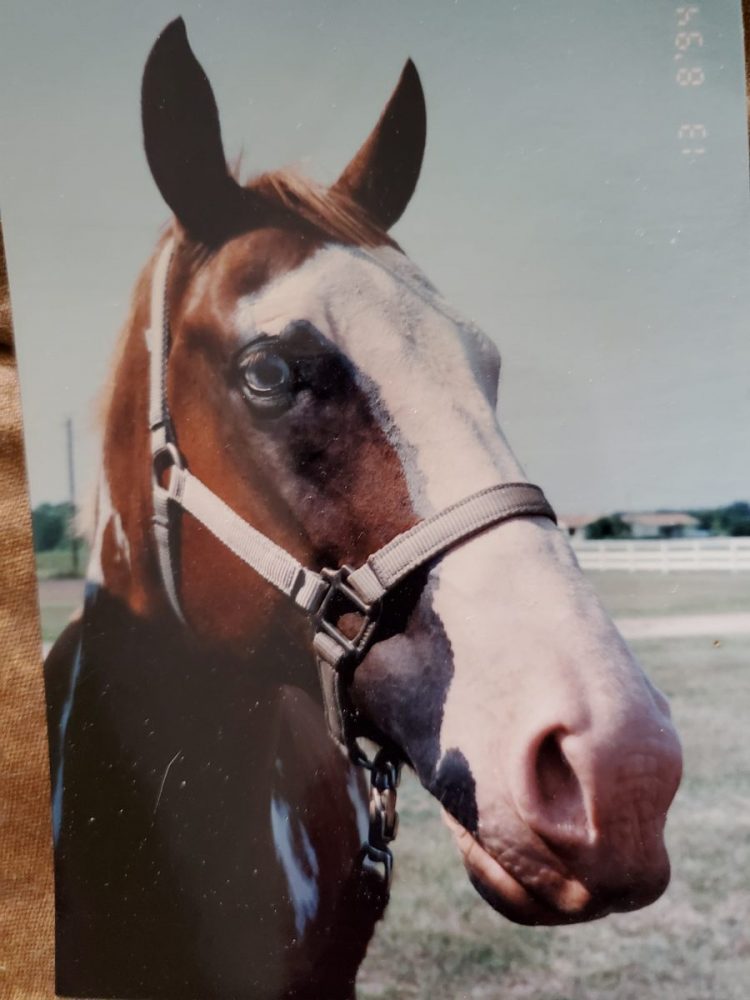 American Paint Horse Association horses are truly 'marked for greatness', and this story is evidence of that. I had the pleasure of meeting the oldest registered Paint horse in the USA during the Spring of 2021. I didn't have to travel far, as 'Ten' lives near me in Hopkins County, Texas and his owner is a friend of mine. At almost 40 years of age, he holds this unique equine distinction in the American Paint Horse breed registry while actually looking half his age!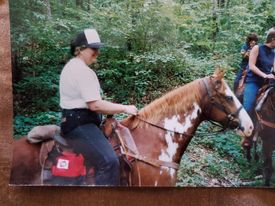 Joy Martin Doss, Ten's owner, is best known by her friends as an educator and a devoted horsewoman. She's also an animal lover, nurturing and caring for any living thing that crosses her path, including her growing family of rescue cats. Joy and husband Charlie have a small horse farm near Sulphur Springs where they care for Ten and four more registered Paint horses. Now semi-retired, she teaches Science to pre-med students at Paris Jr College. Being predisposed to teach, not only people but equines, is inherent for both Joy and her brother Earl Martin, who trained horses for police work. The siblings are also blessed with excellent memories of the many ponies and horses they have owned, bred and trained together, including Mr. Mount Ten Man.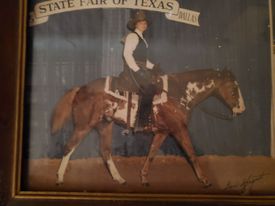 The sorrel Overo was foaled in March 1982, a product of Joy's breeding operation. Eager to learn and with a good disposition, Ten had the makings of an all-around horse for herself. So as a 2-year-old she took him to the Ernest Wilson clinic at Aubrey, Texas where horse and rider were polished up for trail and Western Pleasure riding. That Fall, Joy and Ten won and placed at the State Fair of Texas in both events.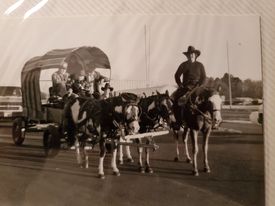 Their next challenge came two years later in 1986 during the Texas Sesquicentennial Wagon train, a traveling celebration marking Texas' 150th year as a state. As an outrider, she and Ten made almost all of the long state-wide trek alongside her team of bay Overo paints pulling the family's wagon with Earl at the reins. Ten took the new experience in stride, maintaining his cool and actually stopping the occasional runaway team. During one rescue, Ten tolerated the wagon wheel running up between his back legs as Joy held back on the lead rope of the team, trying to slow them down to a stop. According to Joy, Ten's skill and agility in several 'tight spots' triggered numerous offers to buy him, but she turned them all down. She was loving the once-in-a-lifetime experience and was starting to see what kind of horse she had in Ten!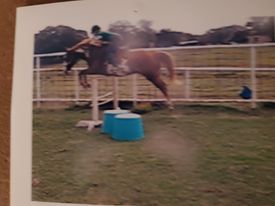 Next, the gelding became a 'lesson horse', carrying many of her riding students to blue ribbons in their first shows, creating new paint horse exhibitors. Joy and Earl were breeding and showing their Bar Mounts Dude colts when one year, Joy got the itch to trail ride. Soon she and Ten were traveling trails in many states and building up their mutual trust in every new situation. Over the years, he gave many of Joy's friends safe rides both on trails and in show settings. As he matured, Ten also became the perfect teacher for a beginner who wanted to learn jumping. Always a safe mount, he assisted many a youngster to claim their first blue ribbon and gain valuable experience while also winning awards, cash prizes and earning career points along the way.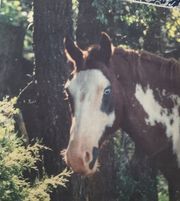 In later years, Ten's job was to baby-sit the younger colts as Joy's number-one pony horse. "He could just about keep those youngsters in line without any help from me!' And as she put it, in every practical skill, from driving cattle to maneuvering unfamiliar ground to just putting up with 'dumb stuff', Ten seemed to understand and minimize any danger that arose. During his lifetime, he epitomized the ideals of the paint horse breed. Beyond their beauty, Paints are prized for their friendly easy-going temperament. The calm-natured and highly social horses possess natural intelligence that makes them unchallenging and rewarding to train.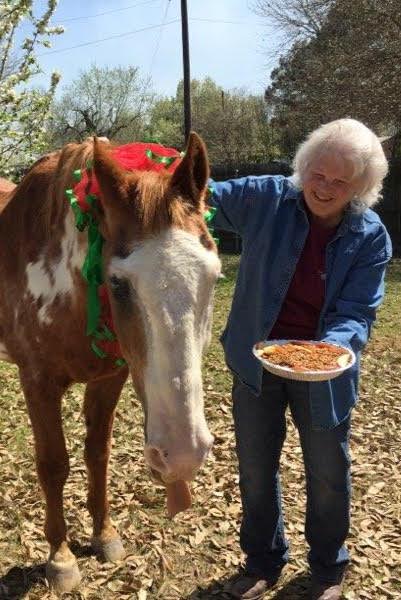 In March 2021, Joy, Charlie, family and friends celebrated Ten's 39th birthday, but kept the excitement low-key. She baked him a horse birthday cake, using his sweet feed in the recipe. Summing up Ten's daily life as a senior horse, Joy shared, 'he is taking it easy now. His eyesight is getting dim. He dozes in the warm sunshine. He gets pampered with warm drinking water in the winter. He is fed three times a day. And he is loved 24/7 by his one and only owner, me!"
In a call to the Paint Horse Association in Amarillo, Joy found that at age 25, registered paints are placed in a special 'inactive' registry, since they are likely no longer breeding or competing. An administrative employee of APHA's Chrome Magazine helped Joy track down Ten's inactive entry and confirmed that age 39 is actually the most senior age for a horse in the Registry, as of March 2021. Ten, at age 39, is shown below on his home range.