Jennifer Rock is excited to soon be returning to Hopkins County to work in the district where she first began her education – Como-Pickton Consolidated Independent School District. Como-Pickton CISD Board of Trustees voted unanimously, 6-0 (board member JJ Cummings was unable to attend), during a special school board meeting on Monday, May, 24, to hire Rock as the new junior high principal.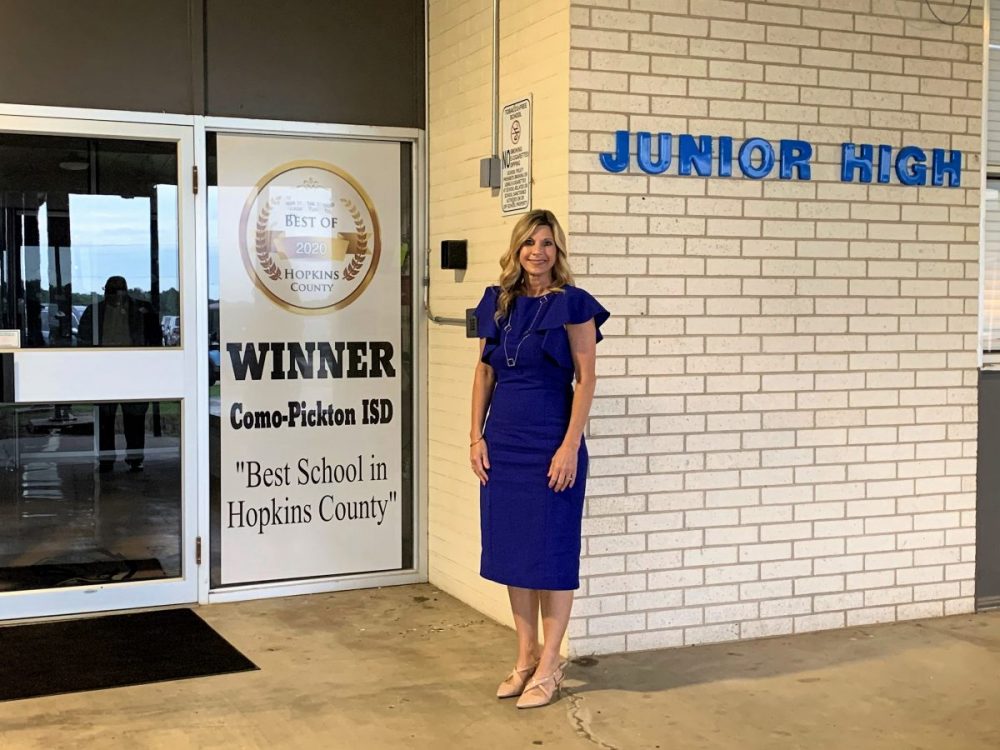 "We had several highly qualified candidates apply for the position since we are the best school in Hopkins County and one of the best schools in the state of Texas. We were impressed to have so many high quality candidates. Of those, several rose to the top. The one that rose to the very top happened to be Ms. Jennifer Rock," Como-Pickton CISD Superintendent Greg Bower said. "She interviewed well and the school in which she's coming from, she's leaving there on good terms. They speak extremely highly of her there. She had a great future there. She has family and relationships here and chose to relocated to our area."
"I'm just excited to be back in a small hometown where farming and hard work is important to the people living here. I was raised on a farm. We still have a farm and it's a 24/7 job. You have to have a solid work ethic to survive. I'm already impressed with the families and students here because I feel like they have that hard work ethic to be successful," Rock said.
While Rock won't official begin serving as the new junior high principal until July 1, 2021, she plans to begin visiting the school some before then to begin filling staff positions, to work on scheduling and planning so that things are ready for classes to begin for the 2021-22 school year, Bower noted.
"I went to school here from kindergarten through third grade so I feel like I'm coming back home here. My dad still lives here in the area and he served on the board here," Rock said, noting her dad, Gene Rose's service of more than a decade on the CP school board. "So, this place is very special to me. I've been away for a long time but I'm glad to be back," Rock said.
Rock has more than a vested interest in CPCISD. She has a daughter who will be attending 5th grade next year, and is excited about the move.
The educator comes to Como-Pickton CISD with 12 years of administrative experience, the most recent at the White Oak Intermediate campus as a principal for the last 7 years. Prior to that, Rock served as an assistant principal at Sabine Elementary.
Rock said she began her career in the classroom, and spent 15 years teaching before transitioning to administration. She started out teaching 6th-12th grade content master and reading. She followed that up with 2 years in a self-contained 4th grade classroom. She spent seven years teaching various subject to 5th graders at Hawkins Elementary, the last and her favorite was science, where she and her students had a good time conducting science experiments.
"I feel like every student is capable of learning. I feel like if you begin with educating their heart then you can educate their mind. I always refer back to that old saying: you'll never know how much they know until they know how much you care," Rock said.
She has presented on Google Up with Power Drive at the state TCEA conference and a session on Google Drive at a Region 7 technology conference held in the fall. She too presented with WOISD Assistant Superintendent of Curriculum and Instruction Mitzi Neely and Primary Principal Claire Koonce a session called "Our Story," about the way White Oak ISD has transitioned with certain pieces over time to improve instruction.
Rock said she welcomes the opportunity to meet the CPCISD families and become reacquainted with the community.
"I feel like I'm a very friendly person. I have an open door policy and I would love to get to know each and every one," Rock said.
The district plans to designate a time for parents and students to greet the new CP Junior High principal closer to the start of the new 2021-22 school year. That date will be announced at a later time, according to Bower.