Cumby ISD administrators recently recognized the Cumby ISD Board of Trustees President Jason Hudson for 20 years of "outstanding leadership, devotion, and commitment to the Cumby ISD Board of Trustees."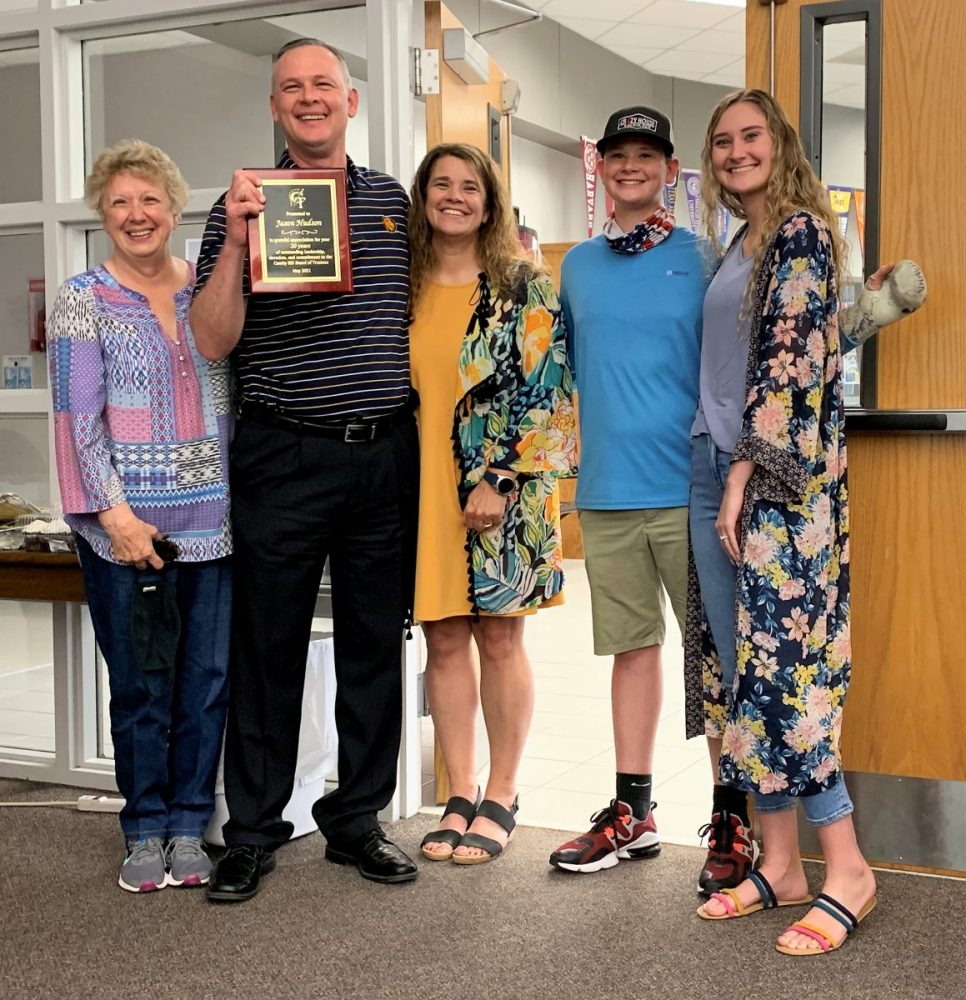 Slaughter and school administrators arranged for Cumby ISD Board of Trustees President Jason Hudson's family to be on hand when they celebrated his two decades of service on the school board. Slaughter presented Hudson with a plaque as well as cards and notes from the school offices and campuses during the May 6 school board meeting.
"It's been a good 20. I don't know how much more I've got in the tank, but I'll say, it's been awesome. I've served with some wonderful people. It's an honor and a privilege. I thank y'all for allowing me to be here. I always welcome somebody taking over this seat right here," Hudson said, gesturing to chair he occupies at the head of the table as board president.
Serving on the school board, especially as president, "can be a hot seat at times." It is a balancing act, making sure to honor those deserving, paying respect where due, and doing so with humility, the honoree noted.
"It's tough at times and I always welcome it to other people. I believe it is my 8th or 9th year as board president. Some times, as we said a while ago about the audit, it's good to have change. But I will say, it has been an awesome ride. I thank y'all for allowing me to be here," Hudson said.
Initially, Hudson had only planned to serve on term on the board, but Jan Bivins decided he needed to remain on the board, instructing him to run for another term. Upon reelected to the school board, Hudson was appointed as an officer. He has continued to be reelected to the board each term since as a means to give back to the youth of the community.
"Giving back to youth of the community and that's what we want to do. We talked about we all have a shelf life. It's important that we encourage, that we grow our students and get them ready for the next level. So, we hope some of these other students right here, will be right here with us," Hudson said of the current CISD students.
He pledged as a board member to continue work "to make sure we're prepared and doing our tax payers due diligence," especially the school bond funds that will furnish needed campus improvements, renovations as well as a new high school and ag building.
"We've gotten a lot of things accomplished. It's very special, probably one of the biggest things was on Saturday (May 1), passed the second school bond in school history. If you don't get excited on that, I don't know what to tell you. We're very excited moving forward and talking about the possibility of breaking dirt in maybe 45 days," Hudson said.