Our Community Partner Ist Choice Home Health, Stephanie and Warren Mitchell, gifted Dinner Bell with 350 pounds of prime packaged ground beef for which we are very grateful!!!!
MENU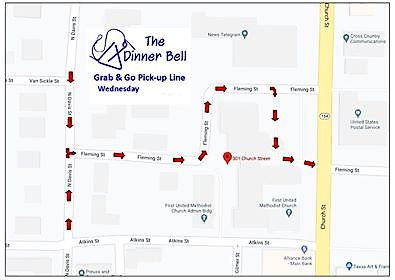 Hamburger Steak with Brown Onion Gravy
Mashed Potatoes
Fried Cabbage with Kale and Other Baby Greens
Garden Salad
Yeast Rolls
Southern Pecan Praline Cake
Grab and Go continues with meals being distributed under the covered driveway on the Northeast Corner of The First United Methodist Church Campus at 11:00 a.m. on Wednesday.
CONTINUE TO PRACTICE SAFETY PRECAUTIONS. COVID HAS NOT DISAPPEARED! DINNER
BELL CARES about your HEALTH! Hope you drive through for a meal. Promise it will be good!
GET YOUR COVID INOCULATION. DINNER BELL CARES ABOUT YOUR HEALTH!!!