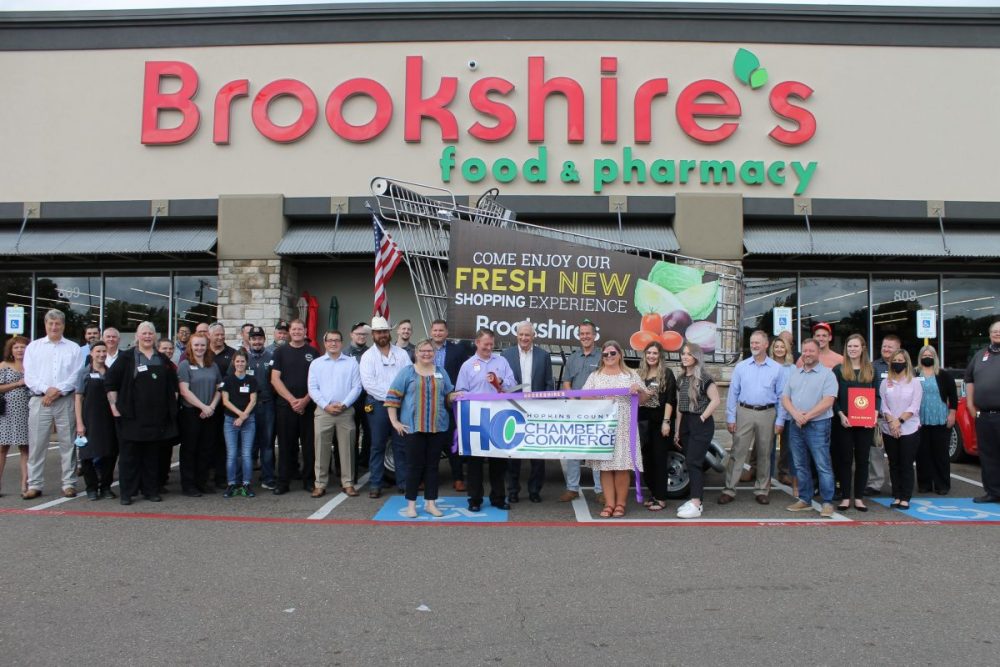 The renovations and improvements that began during the COVID pandemic at the local Brookshire's store have yielded a beautiful updated grocery, market and pharmacy, and a lot of proud employees. Store Director Cade Hohenberger thanked everyone on Wednesday May 19, 2021 during a ribbon cutting ceremony with corporation officials present.
Following a welcome by District manager Wesley Hooper and a prayer by local pastor Jeff Teimeyer, Cade stated that his 26-year career with Brookshire's began in Sulphur Springs in stocking and carry-out. He praised his outstanding team and the Brookshire's signature of excellent customer service. "Learning to give excellent customer service on the job has improved many a young person's view of working, including mine. It seems the more things change, the more they stay the same, and that's still true at Brookshire's. Customer service still comes first, from fresh produce to deli to bakery to the meat and seafood market with sushi to our pharmacy, now with two drive-up windows".
Mayor John Sellers also spoke about Brookshire's local history when the store opened in 1958 at 222 Gilmer Street near downtown, then moved in the 1970's to the old Safeway location bringing a 'better grocery store' to town when it was needed. Now, Brookshire's has done it again."
Brookshire's Corporation CEO Brad Brookshire was present to say that his grandfather opened the original small store in Tyler, Texas in 1928, then branched out to Sulphur Springs 30 years later in 1958. "My grandfather felt that this location was worth the investment back then, and it still is. Among his core values was excellent customer service, and I feel that Cade and his staff at the Sulphur Springs store represent that well. Your town is growing, and Texas is growing, and I am proud to be part of the family-owned Texas company".
Mr. Brookshire also announced that the final addition, self-checkout stations, would be added at the center of the front of the store, right where the ceremony took place. Many of those attending got a close-up view of the BIG GROCERY CART, a 14-foot motor-driven giant promotional model they call "Nas-Cart!"