The state officially closed the free COVID-19 testing site in Sulphur Springs, according to Hopkins County/Sulphur Springs Emergency Management. As more vaccine has become available to Hopkins County providers, more people are becoming vaccinated and the COVID-19 case count has continued to go down and so have the number of people being tested at the free testing site.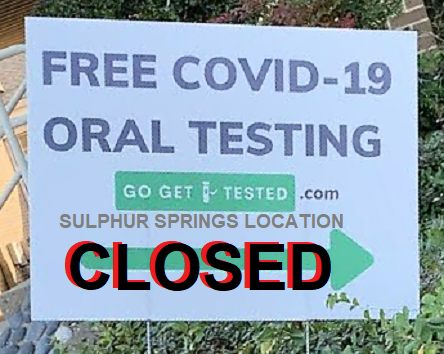 From April 1-20, more than 1,550 additional people in Hopkins County had gotten the first dose of COVID-19 shot, leaving 8,840 waiting on the second dose; approximately 2,626 more people were vaccinated, increasing the total to 6,435 fully vaccinated for COVID-19. That makes 14,640 people in Hopkins County who have received at least 1 dose of the vaccine. According to April 21, 2021, Texas Department of State Health Services' COVID-19 Vaccine Data dashboard, that's 21.28 percent of the population in Hopkins County age 16 or older who'd been fully vaccinated and 48.19 percent of people age 65 or older who are fully vaccinated. On April 22, that number rose to 8,874 who'd had the first dose and 6,526 people fully vaccinated for COVID-19 in Hopkins County.
From April 1-22, a total of 39 new COVID-19 cases were reported for Hopkins County, including 24 confirmed case and 15 probable cases, while 52 people were reported to have recovered from the virus, leaving only 25 known active cases in Hopkins County as of Thursday afternoon. From April 1-20, 56 molecular COVID-19 tests were conducted at the free testing center in Sulphur Springs, compared to the 274 conducted from March 1-22,720 free tests performed during February when the site was closed for about a week due to bad weather, 1,221 tested in January and 1,599 tested Dec. 1-21, 2020, the 1,400 tested at the free site Nov. 1-21, and 1,392 tested at the free site on Oct. 1-20.
Several free testing sites were still open on Friday in other counties, but none listed on GoGetTested.com in far Northeast Texas. The closest free testing location in east Texas is in Tyler, with additional locations in Royse City, Rockwall, Terrell, Mesquite, Forney, Tyler and McKinney. To find the nearest free testing center, visit GoGetTested.com or click the COVID-19 test collection sites link on theCOVID-19 page on the DSHS website.
While only 56 molecular COVID-19 tests were conducted at the free testing site from April 1 to April 21, that doesn't mean COVID-19 tests aren't available in Hopkins County. Several facilities in Sulphur Springs do offer COVID-19 testing, including rapid testing.
According to the DSHS COVID-19 Case Counts dashboard, more people are being tested elsewhere. In fact, a total of 669 COVID-19 tests were conducted in Hopkins County from April 1-21, including 514 viral or molecular tests. That means 458 molecular tests were conducted somewhere other than at the free testing site during the first 21 days of April.
Another 150 tests conducted in Hopkins April 1-21 were antigen or rapid tests; a positive result on an antigen COVID-19 tests is counted as a probable case, not a confirmed case of COVID-19. Only five antibody tests were conducted in Hopkins County April 1-21, according to the DSHS April 22 COVID-19 Testing and Hospital Data dashboard. Overall, that's 22,171 cumulative COVID-19 tests conducted in Hopkins County since the state began tracking the data in March 2020, including 16,922 molecular tests, 3,383 antigen tests and 1,866 antibody tests.
There are many options for COVID-19 testing, including drive-through testing at some facilities and pharmacies. People who have been exposed or who have COVID-19 symptoms are recommended by the CDC and DSHS to contact their primary care physician or family doctor for further advice or to schedule appointments through them. Be sure to ask about any potential fees, have insurance information available and ask about any screening criteria and type of test administered when scheduling at any facility that is not designated as a free testing center.
For a list of COVID-19 tests collection sites listed with Texas Department of Emergency Management, click here.
For additional testing information, including clarification about the different types of COVID-19 tests and things to consider when looking for a public or drive-thru testing site, click here.