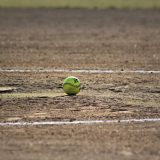 The Saltillo Lady Lions softball team gave up a handful of runs early to lose to Rovercrest, 13-4.
The Lady Rebels scored 3 quick runs in the top of the first to jump out to a 3-0 lead.
While Saltillo was able to put a run on the board in the bottom of the second, Rivercrest added on 2 more runs to take a 5-1 lead early. The Lady Rebels put on 2 more runs to take a 7-1 advantage after 3.5 frames.
While both teams scored 3 runs to make it 10-4 in favor of Rivercrest after 5 innings, the Lady Rebels ended up running away with the victory against Saltillo, 13-4.
In hitting, Chandler Bain and Paisley Kastner were both 1 for 4. Maddy Smith fared a bit better at the plate, going 2 for 4 against Rivercrest. Regan Speir and Gabby Ross both went 1 for 4, and Julianna Giles rounded out the offense for the Lady Lions by going 2 for 3.
With the loss, Saltillo's season record slips to 3-4 overall (3-0 district). Next up, the Lady Lions will be back at home on Friday to host Detroit. That game is set to tee off at 4:30 PM.