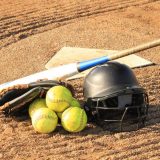 The Saltllo Lady Lions softball team scored early and often, beating Sulphur Bluff by a score of 19-0 on Monday, Apr. 19.
Saltillo's offense was able to put 3 or more runs on the board in three separate innings of the four inning contest.
It started in the first inning, when the visiting Lady Lions took the first at-bat of the game. Saltillo quickly jumped out to a 3-0 lead over the Lady Bears. Sulphur Bluff did not manage to put a run on the board.
The Lady Lions responded by getting 10 runs of their own in the top of the second, turning a 3-run deficit for the Lady Bears into a 13 point deficit for Sulphur Bluff. The home Lady Bears had no answers on offense.
Saltillo then had their third and last 3-run inning of the evening, adding on 4 more runs to make it a staggering 17-0 deficit for Sulphur Bluff.
The Lady Lions added on two more runs in the top fo the fourth inning and the game was called after the next Lady Bear at-bat resulted in no runs for Sulphur Bluff.
As a result, Saltillo's softball team left the Bluff with a big, 19-0 shutout over the Lady Bears.
The Lady Lions scored 3 or more runs in 3 of their 5 innings at-bat.
Paisley Kastner pitched 4 innings, allowing 2 hits and 2 walks apiece, while managing 2 strikeouts and allowing zero runs at Sulphur Bluff.
In hitting, Chandler Bain was 3 for 4, hit by Bluff pitching once, Julianna Giles went 0 for 0 at the plate but was walked twice and hit twice by pitches, and Ryleigh Redar went an astounding 4 for 4, while also getting walked once. Paisley Kastner fared well on offense, going 1 for 2 with two walks and hit by Lady Bear pitching once. Regan Speir batted 1 for 1 but was walked 3 separate times. Gabby Ross went 0 for 1 at the plate but was walked thrice. Ofelia Cabrera went 1 for 4. Allie Lane was 0 for 2 on offense, but was walked and hit by pitching once each. Calli Morris rounded out the Lady Lions hitting, going 1 for 3 at-bat with one walk.
With the win, the Saltillo Lady Lions softball team's overall record is now 5-5. Next up, Saltillo will be back at home on Tuesday April 20 to take on Yantis at Winnsboro City Field. That game is scheduled to begin on Tuesday at 4 P.M.