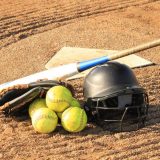 The Saltillo Lady Lions got back in to the win column, Tuesday, Apr. 13 after crushing Fruitvale by a score of 22-0.
Fruitvale was no match for Saltillo this evening, as the Lady Cats could not get any offense going versus the Lady Lions. Fruitvale did not score a single run in 3.5 innings.
The Lady Lions, however, did not have that issue Tuesday, Apr. 13 as they burst open the gates of the game by putting eight runs on the board in their first at-bat. It only got worse for the visiting Lady Cats from there.
Fruitvale pitching allowed Saltillo to best their first inning output; instead of allowing eight runs like they did in the bottom of the first, in the second, the Lady Lions put 10 more runs on the board to take a staggering 18-0 lead going in to the third inning.
The Lady Cats could not manage a run in the third inning. So when they returned to defense, Fruitvale, again, had no answers for Saltillo's offense. The Lady Lions added on four more runs and the game was called after 3.5 innings as Saltillo crushed district foe Fruitvale, 22-0 in Saltillo.
In hitting, Chandler Bain was 2 for 2 with a walk. Bain was hit by Fruitvale pitching once. Ryleigh Redar went 4 for 4 from the plate, with 1 HR on the evening. Paisley Kastner was 2 for 3, and like Bain, was hit by the pitcher once. Maddy Smith fared a bit better, going 3 for 4.
Julianna Giles went 2 for 2 at the plate with one walk and was once hit by pitching. Regan Speir had 3 walks, and like several of her teammates was hit by the pitcher. Gabby Ross went 2 for 3 with one walk. Ofelia Cabrera was 1 for 3 with a walk, and lastly Calli Morris went 1 for 1 with a walk and was also hit by Lady Cats pitching.