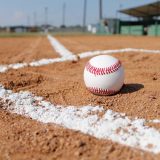 The North Hopkins Baseball Team was edged out by Miller Grove on the Road, 5-4 Friday.
The Panthers led 3-1 after the top of the fourth but the Hornets scored two runs in the fourth and two more in the fifth to go ahead 5-3.
The Panthers were able to get one more run in the sixth but that was all. North Hopkins left 12 runners on base.
Panthers' pitcher Dakota Smith deserved a better fate as he threw six innings allowing 5 hits and 5 runs, but only 1 run was earned due to Panthers' errors. Smith struck out 3 and walked 2.
Karson Jenkins was 1 for 1 for the Panthers with 2 RBIs, a run scored, a sacrifice fly, 4 stolen bases and 2 walks. Smith was 1 for 3 with an RBI, a run scored, a triple and a walk. Carson Mathis had an RBI and he drew a walk. Landry Breckeen was 2 for 3 with 2 stolen bases and a walk. Tate Myers was 1 for 4 with a stolen base and a walk. Aaron Nguyen was 1 for 4 with a stolen base. Braydon Nguyen scored a run, stole 2 bases and walked twice. Robert Perry scored a run and walked twice. Gaven Buccieri drew a walk.