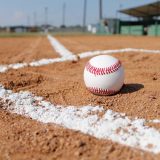 Only the venue changed Friday (April 9) as North Hopkins and Como-Pickton played their second game this week, this time at Como-Pickton.
The Eagles got another lopsided win, this time by the score of 15-0. Friday the Panthers managed to get 1 hit but they committed 6 errors.
The Eagles had 7 hits and they scored in all three innings they came to bat. They scored 1 run in the first and 7 more runs in the second and the third inning. The game ended after 3 ½ innings. Gaven Buccieri got the Panthers hit, a single.
Carson Mathis got the pitching loss and Landry Brackeen also pitched for North Hopkins.
Christian Gilbreath picked up the win for the Eagles allowing only the 1 hit and no runs while striking out 4. Gilbreath was 1 for 2 at the plate with 2 RBI's 3 runs, 2 walks and a double. Jackson Monk had 2 RBI's and scored 2 runs, and Flemens was 1 for 2 with an RBI, a run, a double, a walk and 2 stolen bases.
Kevin Hernandez was 1 for 3 with 2 RBI's and a run. Dalton Morgan was 1 for 3 with an RBI, a run and a double. Maverick Asbery was 1 for 2 with an RBI, a run and a walk. Kobie Wright was 1 for 1 with an RBI, 2 runs, 2 walks, a double and a stolen base. Taylor Ford was 1 for 3 with 2 runs and a stolen base. C. Thomas scored 2 runs, had 3 walks and stole 2 bases.