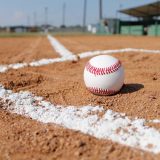 The North Hopkins Panthers Baseball Team never could over take the Cumby Trojans losing a 3-2 game at home Tuesday (April 27).
Cumby scored single runs in the second and third innings to go up, 2-0. The Panthers cut the lead to 2-1 in the 4th.
Cumby went up 3-1 in the 5th and North Hopkins then made it a one run game again at 3-2 in the 5th. That's the way it ended up.
Both teams had 5 hits and made 2 errors. Karson Jenkins took the hard luck loss for the Panthers throwing 94 pitches over 5 innings allowing 5 hits and 2 earned runs while striking out 8 and walking 4.
Dakota Smith pitched 2 strong innings allowing no hits or runs while striking out 4.
For the Panthers, Tate Myers was 1 for 3 with an RBI, a walk, a double and a stolen base. Jenkins was 1 for 2 with an RBI, 2 walks, a double and a stolen base.
Landry Breckeen was 1 for 3 with a stolen base. Braydon Nguyen was 1 for 3. Smith was 1 for 2 with a double. Dylan Minick scored a run. Gavin Buccieri walked. Aaron Nguyen stole a base. Carson Mathis was hit by a pitch.