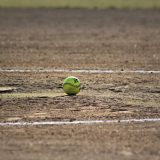 The Saltillo Lady Lions softball team could not hold a seven run lead and lost to Detroit, 19-9 on Friday, Apr. 9.
Saltillo was able to overcome an early 2-0 deficit in the bottom of the first by scoring nine runs of their own to take a 9-2 lead going in to the second inning. Neither team scored a run in the second.
In the third, though, Detroit had a nine-run inning of their own, turning a seven run deficit in to a two-run, 11-9 lead. The visiting Eagles scored six more runs in their next at-bat in the bottom of the fourth to make it 17-9 over the Lady Lions.
Detroit added on two more runs in their last at-bat in the top of the seventh en route to a big, 19-9 come-from-behind win over the Saltillo Lady Lions softball team.
After scoring nine of the first 11 runs in the game, Saltillo managed to get outscored 17-0 over the next eight innings.
In hitting, Julianna Giles was 1 for 4 with one walk. Pasley Kastner was 1 for 2 with a walk as well. Maddy Smith went 1 for 3 at the plate and managed to get walked. Regan Speir was 0 for 0 at the plate, the reason for that being that she was walked four separate times by Detroit pitching. Lady Lion Calli Morris ended up batting 1 for 3 on the night with one walk.
With the loss, Saltillo's overall record slips to 3-5 (3-0 district). Next up, Saltillo will be back at home on Tuesday, Apr. 13 to take on Fruitvale.
That game is set to tee-off at 4:30 P.M.