East Texas Giving Day is an 18-hour online event that provides critical funding for our area nonprofits. East Texas Communities Foundation is partnering with area nonprofits to give donors from every community in East Texas a chance to raise funds for local needs.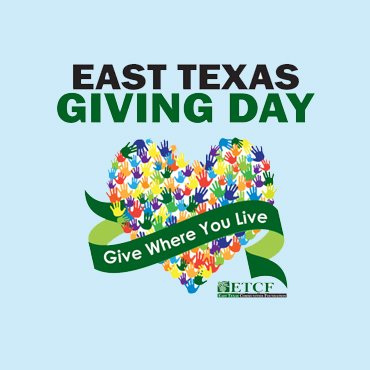 The purpose of an area-wide Giving Day is to bring the region together on one day and as one community, raising money and awareness for East Texas nonprofits. This initiative, organized by East Texas Communities Foundation (ETCF), provides citizens across ETCF's 32-county service area an easy platform to support the mission of local nonprofits that serve our communities.
When is East Texas Giving Day?
Tuesday, April 27, 2021, from 6:00 a.m. to midnight, Central Standard Time. Bright Star Baseball is a 501 (C)(3) baseball league located in Hopkins County for children and adults with special needs. We have teamed up with The Miracle League to guide us through the construction of a specialized all-weather surface field. Bright Star Baseball's goal is to build an all-weather surface baseball field. This field will allow players of all disabilities improved mobility. Players who use wheelchairs or walkers will be able to maintain their expensive medical equipment in good working order, while they participate in Bright Star Baseball games. The field will be built in phases, Phase I includes an all-weather surface baseball field which would allow the players to start playing ball.
We are EXCITED to be part of East Texas Giving Day 2021! This is Bright Star Baseball's first time to participate in this online event. We are asking for your support by donating to Bright Star Baseball to help us build the field, Celebration Field! No donation is too small, every dollar counts!
Donations can be made online: www.easttexasgivingday.org/brightstar