Christus Mother Frances Hospital is the Community Partner for this week.
Dinner Bell continues as a Grab and Go operation. To secure meals proceed through the covered driveway (Porte cochere) on the Northeast corner of the First United Methodist Church campus after 11:00 a.m. on Wednesday.
MENU
Meatloaf and Gravy
Mashed Potatoes
California Blend Vegetables with Parmesan Crumb Topping
Garden Salad
Yeast Rolls
Pecan Pie Cake
WASH HANDS OFTEN. KEEP DISTANCES. WEAR MASKS. GET YOUR VACCINE. STAY
HEALTHY. DINNER BELL CARES!!!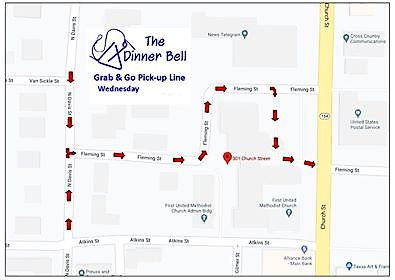 PLEASE PLEASE continue to WEAR MASK. Get your SHOTS when you can. STAY SAFELY from OTHERS. WASH YOUR HANDS. OFTEN. DINNER BELL CARES ABOUT YOUR HEALTH.
Dinner Bell remains a Grab and Go distribution system for meals. Meals may be secured by driving under the covered driveway on the Northeast Corner of The First United Methodist Church Campus after 11:00 a.m. on Wednesdays.