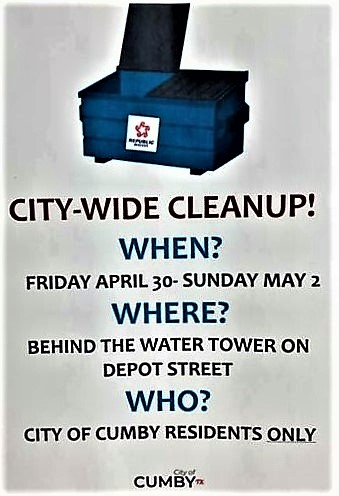 The three-day Cumby City-Wide Clean Up is scheduled for Friday, April 30, -Sunday, May 2, 2021
A dumpster will be provided behind the water tower on Depot Street to allow City of Cumby residents to dispose of larger household items to help clean up their personal property in town. I
While most things that can fit into a dumpster are allowed, the City of Cumby officials remind residents that there are a few restrictions. The following are not allowed in dumpsters:
Chemicals
Tires
Antifreeze or Freon, or any appliance containing either substance, including refrigerators and window A/C units
Oil and gas, or any equipment containing either, including lawnmowers.
Residents are reminded that items should be deposited into the dumpster and not left on the ground around it.