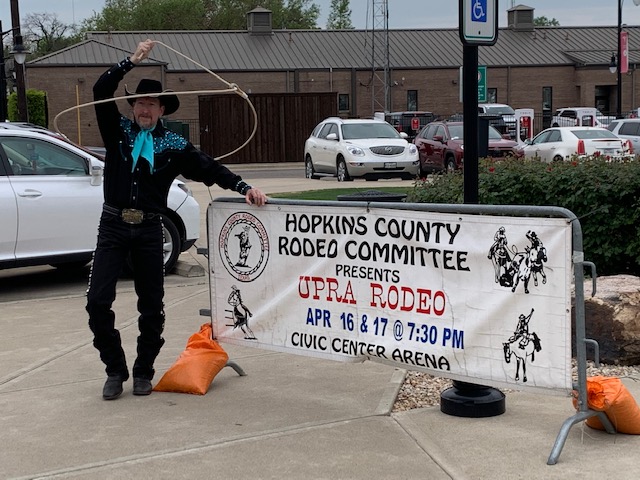 I literally 'ran into' Trevor Dreher on the square in downtown Sulphur Springs as he was doing pre-show promotion for this weekend's UPRA Spring Rodeo. Trevor had arrived in town and was looking for people to perform his roping tricks for. I first took him to Lezley's "Farewell Fiesta" inside the Chamber of Commerce office, where he executed some amazing loops for her guests. Next, he yelled "Howdy!" to everyone inside the Alliance Bank lobby, amazing them with some fancy footwork and deft spins. By then, rodeo producer Oscar Aguilar had caught up with us, and led Trevor inside several more of the sponsor businesses downtown. Trevor's impromptu pre-shows on Thursday are sure to get more people out to the rodeo this Friday April 16 and Saturday April 17! Catch this World Champion Trick Roper's All-LED Light Performance in the arena as part of the action both nights!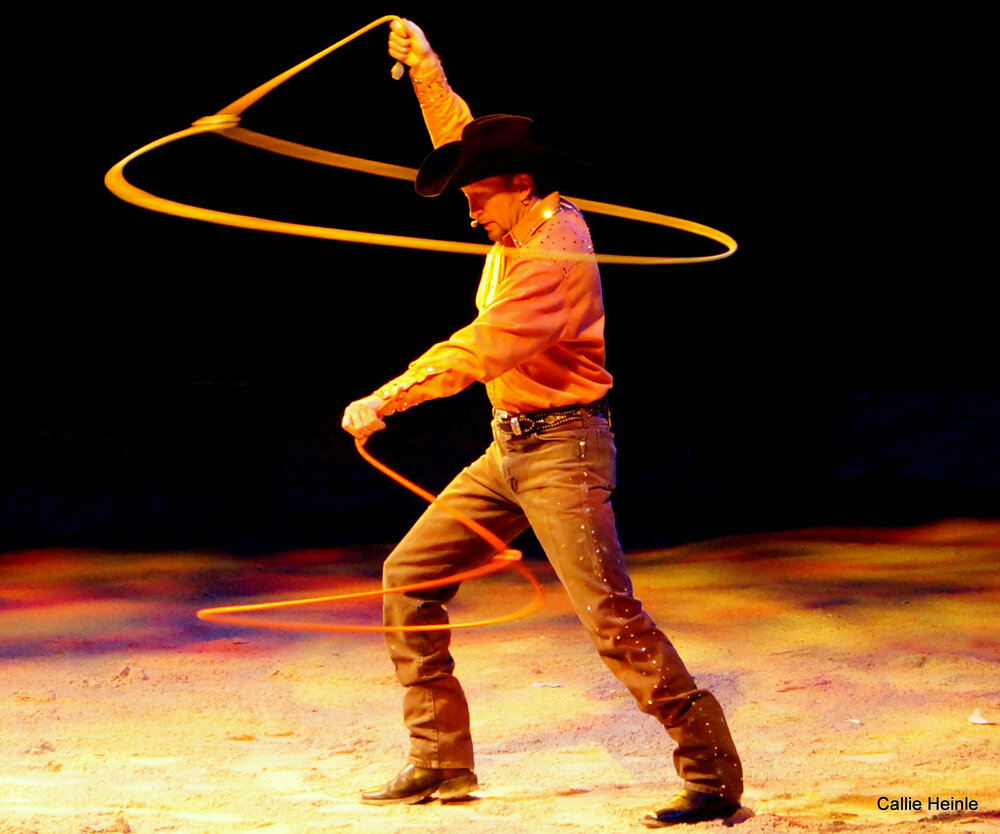 From his website, I learned that Trevor was raised in Ohio in a rodeo family. He spent his early years watching his older brother perform in traditional rodeo events, and he wanted to follow in his footsteps. However, to give him something to do, his Mom introduced him to a 'piggin string' or short piece of rope with a loop. She showed him how to spin it, and at age 10, his career was born. Trevor was given as old black and white movie of Will Rogers' called 'Ropin' Fool' and he began to practice more complicated maneuvers. Soon he was effecting his skills at county fairs and school events, and gradually branched out to neighboring states.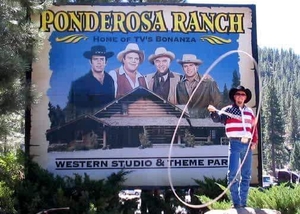 His natural-born singing talent was another plus; he began performing the National Anthem at rodeos. As his Western skills broadened, Trevor went on tour with the White Horse Troupe, then landed a permanent spot at Bill's Wild West Dinner in Central Florida. and later a three-summer stint at Lake Tahoe's Ponderosa Ranch and long-term engagements at Universal Studios and Sea World in Orlando, Florida where he now makes his home.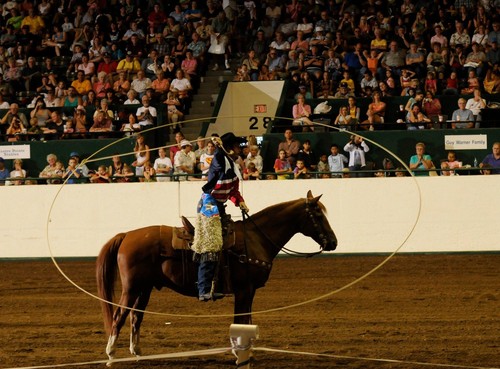 Trevor's roping shows have been special entertainment at major sporting events and he's appeared in national television commercials with well-known sports figures. Today, Trevor continues to perform at Branson along with The Trevor Dreher Band and Trio, as a trick rider and roper in Wild West Shows, and at rodeos and corporate parties across the country.
Be sure and catch his All-LED Light Show during the 2021 UPRA Springs Rodeo in Sulphur Springs, Texas on Friday April 16 and Saturday April 17 at 7:30pm.
See Trevor at The Courtyard downtown Sulphur Springs! To view the link, click HERE