Lake Country CASA and Hopkins County Commissioners Court joined forces this week to encourage the community to help them with a very important cause, spreading awareness and acting to prevent child abuse. Several area schools also are standing together with officials in the efforts to protect kids from abuse and neglect, hosting dress up days, posting blue pinwheels of prevention, and making posters to spread awareness about child abuse and creating posters and sharing messages with the community.
Hopkins County Judge Robert Newsom asked members of Lake Country CASA to Monday's regular Commissioners Court meeting as April was officially proclaimed Child Abuse Prevention Month in Hopkins County.
"CASA is an organization that has not always been in Hopkins County, but it is an amazing group that does so many good things for children, especially in the court system," Newsom said.
Lake Country Court Appointed Special Advocates depends on community volunteers committed to receiving specialized training to better assess the situation of the children referred to them due to child abuse or neglect, so as to better advocate for children, making recommendations to a judge as what is needed by and in the child's best interest. This includes CASAs getting to know the child they've been entrusted to represent in court, developing a bond with and follow the child throughout their case, visiting the youth at their foster home and at school. The goal is for each child that has been removed from their home to find a permanent, safe placement in which the child can live, grow and flourish.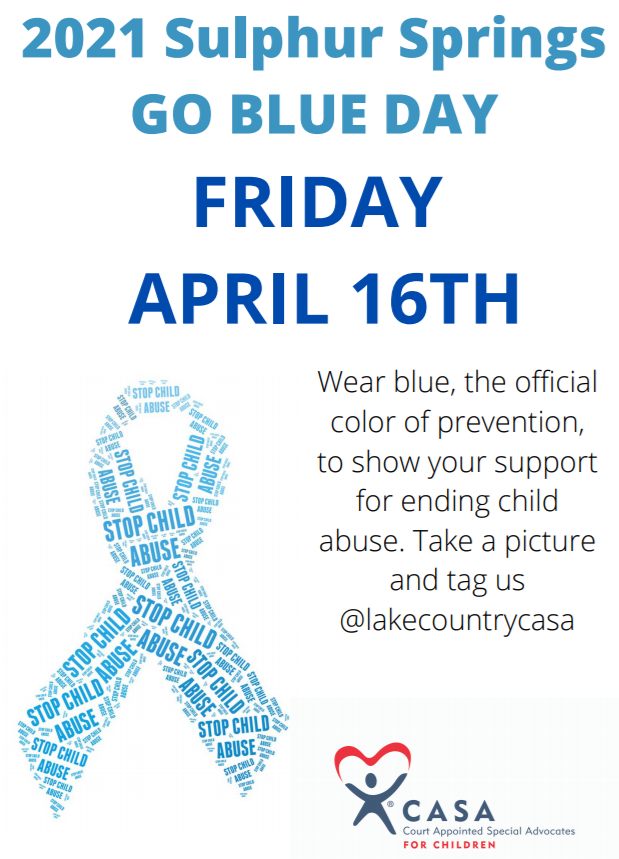 Spreading community awareness that child abuse does occur and signs to watch for, and ways people can help prevent or stop child abuse is another part of what CASA does. Child abuse does occur in this community. Last year, 103 children were confirmed to be victims of child abuse in Hopkins County.
"Child abuse prevention is a community responsibility and finding solutions depends on the involvement of all people. Effective child abuse prevention programs succeed because of partnerships among a variety of entities including but not limited to schools, religious organizations, law enforcement agencies, Child Protective Services, of course CASA (Court Appounted Special Advocates), Child Advocacy, prosecution agencies, medical professionals, mental health professionals and other community based nonprofit organizations," Newsom said.
He urged everyone in the community should become more aware of child abuse prevention by helping parents raise their children in safe, nurturing environments; supporting local professionals dedicated to meeting the needs of child abuse victims; becoming more aware of child abuse and neglect; and significantly improving the response of the community when child abuse does occur in order to give children a chance for a safe and positive future.
"Child abuse and neglect are serious public health issues that impact child development, family stability, and public health outcomes across Texas. There are four types of child maltreatment: physical abuse, which often results in the bodily harm of a child; neglect, or the failure to provide a child with the basic and necessary needs to sustain a healthy life; sexual abuse, a heinous crime that leaves its survivors with emotional and physical scars; and emotional abuse, which occurs when a child's growth and
development are impaired by using emotions to criticize, embarrass, shame, blame, or otherwise manipulate a child. Recognizing the signs of child abuse, in any form, is vital to protect our children, some of the most vulnerable Texans among us," Governor Greg Abbott declared a proclamation issued April 1, 2021 not only declaring April Child Abuse Prevention Month in Texas but encouraging all Texans to learn more about the signs of child abuse as well as about the many groups and individuals "working to protect our children and ensure the future success of Texas for generations to come.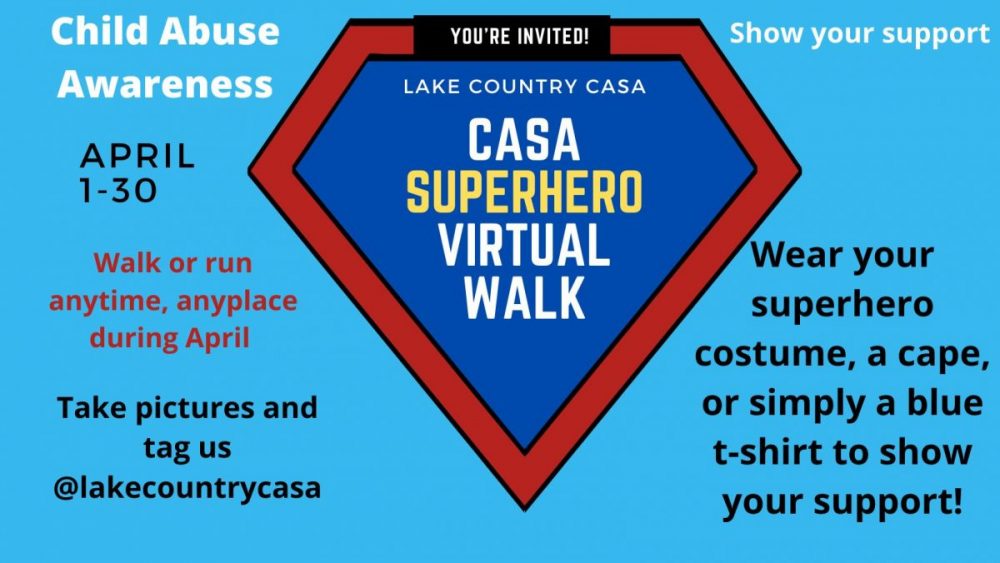 "When we stand together, our unity sends a strong message that Texans value life and offers a renewal of courage for the future. Every child deserves the opportunity to reach for their dreams; only together and by the grace of God can we give every child the chance to live a happy and fulfilling life," Abbott stated in the proclamation.
Lake Country CASA also encourages community members to show their support for ending child abuse by donning blue, the official color or prevention, on Friday, April 16, dubbed Go Blue Day 2021. Another way local citizens can show their support is by participating in a Superhero Virtual Walk anytime during April. Simply wear a superhero cape, a costume, or a blue t-shirt to show support. Community members can take a picture and tag @lakecountrycasa to be part of the local movement to end child abuse. Blue ribbons like those at the entrances to Hopkins County Courthouse during April also is another way to show a stand for child abuse prevention.
Additional resources about child abuse and neglect, including how to identifying it and what to do if child abuse or neglect is suspected, and how to become a CASA, can be found on the Lake Country CASA website, and https://www.childwelfare.gov/topics/preventing/preventionmonth/