Hopkins County seems to still be headed in the right direction as far as COVID-19 is concerned. Thursday was another day with no new COVID-19 cases reported in Hopkins County residents, but had 13 residents reported to have recovered from their bout with COVID-19. Despite the ever increasing number of people receiving COVID-19 vaccines, the virus is still not gone from Hopkins County: 123 residents were estimated Thursday afternoon to still have the virus and another Hopkins County resident was confirmed April 7 to have died from COVID-19.

| COVID-19 Category | December | January | February | March | April (1-8) |
| --- | --- | --- | --- | --- | --- |
| Monthly New Case Count (Confirmed & Probable) | 483 | 400 | 188 | 98 | 17 |
| Estimated Additional Doses Of Vaccine Administered | 256 | 1,852 | 1,178 | 6959 | 851 |
| Estimated Additional Fully Vaccinated | 0 | 324 | 772 | 2613 | 590 |
| Fatalities Occurring During the Month | 26 | 15 | 5 | 3 | 1 |
While Texas Department of State Health Services April 8 COVID-19 Case Counts dashboard showed no new novel coronavirus 2019 cases, either confirmed or probable, reported for Hopkins County three days this month, three have been 11 new lab-confirmed cases so far in April: one each on April 2, 3 and 7, but eight on April 1. There have also only been four new probable cases (those in which an individual tested COVID-19 positive on an antigen test or or have a combination of symptoms and a known exposure to someone with COVID-19 without a more likely diagnosis) in the last 7 days , but there have been six probable cases so far this month.
So far this month there have been 25 recoveries, four each April 1-4, then eight on Wednesday and 13 Thursday. That's eight more recoveries during the first eight days of April than were reported March 1-8.
Cumulatively, that's 3,036 Hopkins County residents who have contracted the virus since March 21, 2020, including 3,005 who have recovered from the virus.
Unfortunately, 108 Hopkins County residents have died as a result of COVID-19 since July 2020. The first death wasn't recorded until July. The latest death was confirmed by death certificate, filed with Texas Vital Statistics office and announced by DSHS April 7. The latest death is reported to have occurred on April 1, marking 26 days between the most recent COVID-19 fatalities.
As the number of Hopkins County residents has continued to increase since December, the number of new COVID-19 cases and deaths has continued to decline each month.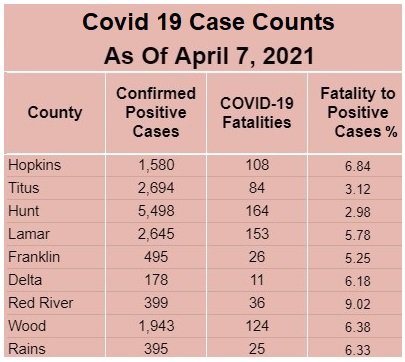 December concluded with 26 fatalities, 256 people in Hopkins County receiving the first dose of COVID-19 vaccine, and 483 new COVID-19 cases (290 new confirmed COVID-19 cases, as well as 193 probable cases reported Dec. 11-31). Reported for Hopkins County in January were 15 deaths, 400 new COVID-19 cases (247 confirmed and 153 probable) and 1,852 additional doses of COVID-19 were administered (1,528 first doses and 324 second doses). A total of 188 new COVID-19 cases were reported in February (135 confirmed and 134 probable), 5 fatalities, and 1,178 additional doses of COVID-19 in February. Only 98 total new COVID-19 cases were reported in March 2021 (60 confirmed and 38 probable), three fatalities and approximately 6,500 additional does of COVID-19 vaccine had been administered to Hopkins County residents. So far in April, recoveries outpaced new cases 25 to 17, and the number of vaccines administered to Hopkins County residents has risen from 10,497 to 11,354 (6,955 who've received the first dose of the vaccine and 4,399 who are fully vaccinated for COVID-19.
Compared to the eight other counties within about 100 miles driving distance, Hopkins County has the second highest fatality rate among confirmed COVID-19 cases, was fourth for most fatalities and fifth for most cases, as of April 7, 2021. Of the 1,580 confirmed COVID-19 cases reported through Wednesday for Hopkins County, 108 residents died from the virus, giving the county a 6.84 percent fatality rate among infected individuals.
---