Sulphur Springs ISD Employees Will Receive Pay, Some At Premium, For Days School Was Closed Due To Weather
District Applying To TEA For Waivers For 5 Missed School Days
Sulphur Springs ISD employees will receive pay for the days school was closed due to winter weather; the district will also seek state waivers for 5 missed school days due to extreme, dangerous road and other conditions due to ice and snow last month.
SSISD Board of Trustees held a special meeting at 6 p.m. Monday in the Hopkins County Civic Center Exhibit Hall to consider wage payments during emergency school closings. They were asked and agreed to approve Resolution 1-21, which essentially says employees will not lose pay for time they were instructed not to work and were idle during the emergency school closings between Feb. 11and Feb. 19, 2021, due to extreme weather conditions, which not only made roads dangerous for travel, but also left many without water and power.
The resolution stipulates that wage payments will continue for all regular employees, contractual and noncontractual, salaried and non-salaried.
While many employees were home, there were some who were required to work during the emergency closings. Nonexempt employees who were called on to provide emergency-related services as part of the district's response to the inclement weather and its effects from Feb. 11-Feb. 19 will be paid at premium rate as outlined in DEA(Local) policy for that time.
Administrators noted that some staff, especially Dan Froneberger and his staff, really stepped up during the closures to help address needs, which included some weather-related damages. Superintendent Mike Lamb noted that metal pipes were determined to no necessarily be the best type during extremely cold temperatures.
The trustees also approved submission of an application to Texas Education Agency requesting waivers for 5 days school was closed due to the weather emergency. The district plans to ask for a waiver which would exempt the district from having to make up Thursday, Feb. 11, and Tuesday-Friday, Feb. 16-19, later this year.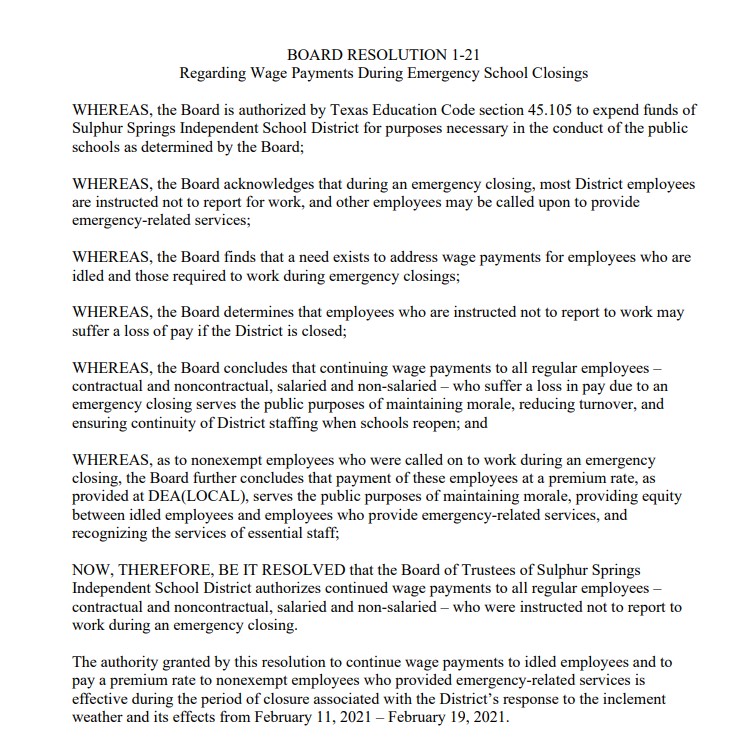 Following the very brief special school board meeting, the trustees entered into a work session with the Strategic Planning Committee to review the strategic plan developed one year ago, just before spring break, and determine what if any adjustments need to be made to the plan moving forward.
Lamb asked the committee and trustees to consider the major events that have occurred over the last 12 months, how that has impacted community members' feelings toward educator and the social, emotional and learning impact of various events.
The district had planned to implement the strategic plan following spring break 2020, however, the pandemic closed schools for the rest of the school year, forced districts to use and attain technology quicker and provided some additional funding to enable districts to better do so. It also gave many a different perspective on all virtual and at-school learning environments and social interactions. The extreme winter weather last month showed the stress it has on infrastructure.
The number one goal, Lamb told the group is to pick up the ball and move forward. Administrators have met with district leadership groups to talk of ways to move forward following COVID, and what if any changes will be need once more are vaccinated and the number of infected individuals declines to a level that some pandemic measures can be relaxed or lifted.
The work session concluded with the committee deciding that the plans developed one year ago are appropriate and giving approval to begin implementing the plan.