Beginning March 15, anyone age 50 or older in Texas will be eligible to receive a COVID-19 vaccination, Texas Department of State Health Services announced Wednesday afternoon.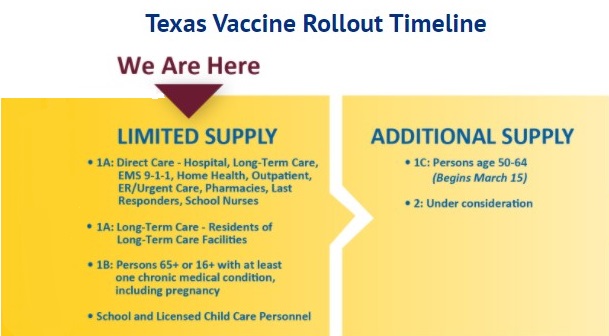 More than 93 percent of coronavirus deaths in Texas have been in people age 50 and older, with those ages 50 to 64 accounting for 20 percent of all fatalities. Including this group to the vaccine eligibility list should help further reduce the number of people who are hospitalized and die from the disease across all races, ethnicities and occupations, DSHS noted.
"We've seen a remarkable decrease in the number of hospitalizations and deaths since people 65 and older started becoming fully vaccinated in January," said Imelda Garcia, DSHS associate commissioner for laboratory and infectious disease services and chair of the Expert Vaccine Allocation Panel. "Expanding to ages 50 to 64 will continue the state's priorities of protecting those at the greatest risk of severe outcomes and preserving the state's health care system."
More than half of all Texas seniors had received at least one dose of COVID-19 vaccine, and 30 percent those are fully vaccinated. The number of COVID-19 positive patients in Texas hospitals has fallen by two-thirds from its peak in mid-January. There are about 5 million Texans between the ages of 50 and 64; more than 1 million of them are already vaccinated, according to the DSHS report.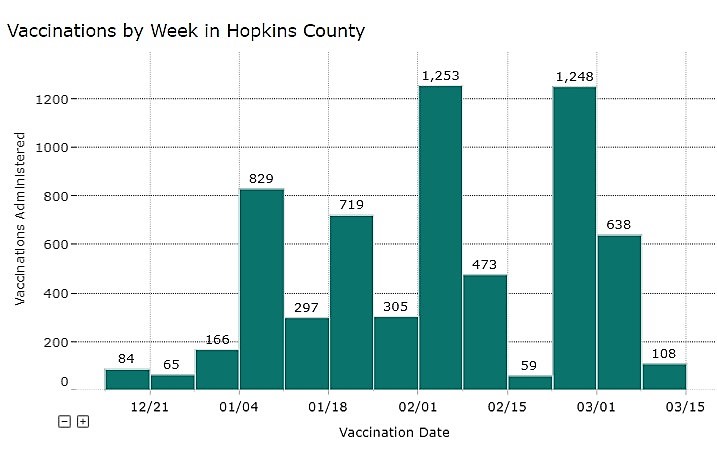 The state's COVID-19 vaccination program began with Phase 1A in December with health care workers and long-term care facility residents and staff. Later that month, Phase 1B rolled out with people 65 years and older and individuals with medical conditions that put them at a greater hospitalization and death from COVID-19 added to the vaccine eligibility list. Texas last week added school and child care workers to the eligible population, following a directive from the U.S. Department of Health and Human Services.
More information on the new 1C priority group (50-64 years) is available at dshs.texas.gov/coronavirus/immunize/vaccine/EVAP-Phase1C.pdf.
Overall, more than 7 million doses have been administered in Texas. About 4.7 million people have received at least one dose of COVID-19 vaccine, and 2.5 million are fully vaccinated.
In Hopkins County, where COVID-19 vaccines are still relatively hard to come by due to the more limited supplies allocated to local providers than in more populous areas with hubs and super hubs, a total of 6,063 people had received vaccinations, 2,498 people who are fully vaccinated and 3,766 who have received one dose but are still awaiting the second dose of the COVID-19 vaccine.

As of 11:59 p.m. March 9, a total of 1,021 people ages 65-79 with Hopkins County addresses (474 men and 547 women) had been fully vaccinated for COVID-19. The next largest group of fully vaccinated individuals in Hopkins County were those between 50 and 64 years of age (211 men and 363 women). Another 473 Hopkins County residents ages 16-49 years (146 males and 326 females) are fully vaccinated and 428 age 80 and older (159 men and 269 women).
Another 1,600 adults ages 65-79 (740 men and 860 women) have received the first dose of the vaccine and are waiting for the second dose. A total of 843 Hopkins County residents ages 50-64 years (326 men and 515 women), 674 residents ages 16-49 (220 males and 453 females) and 646 residents ages 80 and older (239 men and 407 women) had were waiting the requisite 3-6 weeks to receive the second dose of the Pfizer vaccine and 4-6 Weeks to receive the second dose of the Moderna vaccine. The majority of people vaccinated in Hopkins County received the Moderna vaccine as that's typically the brand of COVID-19 vaccine allocated to local providers.
However, DSHS last week reported that a total of 200 doses of the new Johnson & Johnson COVID-19 vaccine were allocated to Hopkins County this week, 100 each to Brookshire's Pharmacy and to CHRISTUS Trinity Clinic.

---