District 2 Representative Proposes Bill Renaming Section of I-35 In Austin The 'Steve Adler Public Restroom Highway'
AUSTIN, TEXAS – Tuesday, March 2 – Representative Bryan Slaton from House District 2 filed HB 2571 that will protect historic monuments and statues from being removed, altered or destroyed. The bill protects important pieces of Texas history, and creates fair legal processes for alterations, removal or relocations.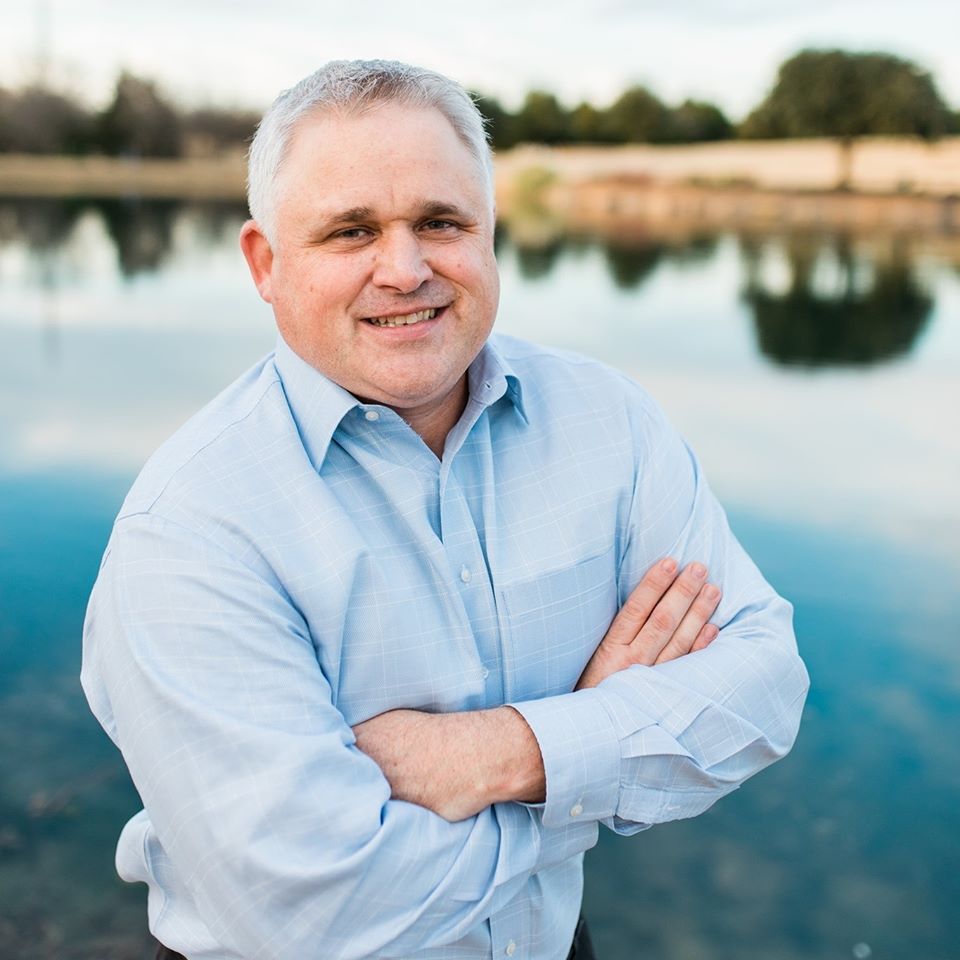 "On this Texas Independence Day, it is important that we remember the lessons and stories of the past and preserve our storied history for the future. At a time when monuments and statues representing our history and traditions continue to be destroyed across America and even within Texas itself, it is more important than ever that we protect our historic monuments in the public
square," Representative Slaton said.
Similar legislation was filed in the 86th legislature by Senator Brandon Creighton. The bill was passed out of the senate, but failed to receive a vote on the House floor, Slaton noted in Tuesday's release.
HB 2571 is one of a dozen bills Slaton has announced over the last week.
On Monday, Slaton's office also announced the representative has filed HB 2471 proposing Interstate 35 in Austin between 4th street and 11th street, an area with a homeless population the representative called "Tent City," be renamed Steve Adler Public Restroom Highway."
"Liberal legacies deserve to be recognized. Since the legislature has made it clear it intends to rename some highways and bridges this session, I think it's imperative that we start with a highway that truly recognizes the contributions of Mayor Adler. Texans who don't know history are doomed to repeat it, and with the renaming of this highway we will ensure that citizens of the Texas capital never forget the legacy of failed liberal policies," Slaton stated in the release.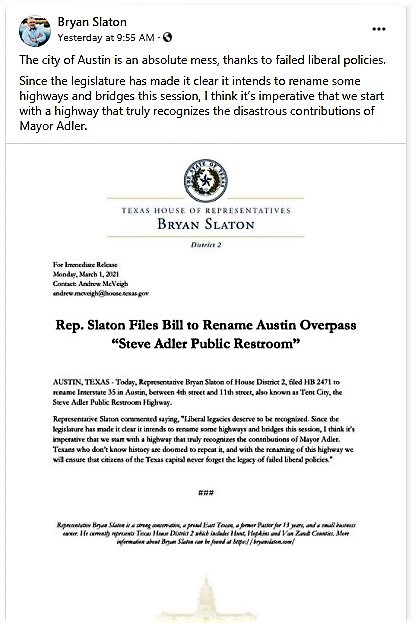 Slaton's office announced the District 2 Representative is co-authoring 10 proposed "conservative bills that will further advance a strong conservative agenda in 2021." They include:
HB 574 strengthens election law to help prevent fraud and increase penalties for election fraud.
HB 749 bans the unethical and unfair practice of taxpayer-funded lobbying.
HB 825 removes the required fee for obtaining a license to carry a handgun.
HB 827 prohibits toll road entities from reporting vehicle speed to law enforcement.
HB 957 allows the sale of firearm suppressors if the suppressor was manufactured in Texas, without federal interference or regulation.
HB 1057 designates November 7th as Victims of Communism Day.
HB 1218 requires schools to clearly display our national motto, "In God We Trust."
HB 1238 proposes Constitutional Carry for all law-abiding citizens.
HB 1359 allows a referendum on Texas reasserting itself as a sovereign and independent state.
HB 1399 prohibits gender reassignment surgery or gender transitioning for children