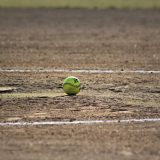 It was a tough day Tuesday (March 30) for the Saltillo Lady Lions Softball Team as a big inning led to a 19-5 loss at Alba-Golden.
Alba-Golden scored 10 runs in the bottom of the third inning.
The highlight for the Lady Lions was a grand slam home run by Paisley Kastner. Chandler Bain was 1 for 2 with 2 runs scored. Ryleigh Redar was 1 for 3 with 1 run scored. Maddy Smith and Regan Speir were both 1 for 3. Calli Morris drew a walk and scored a run.
The Lady Lions are 3-2 for the season. They remain unbeaten in district play with a 3-0 record. Next the Lady Lions play at Como-Pickton Friday starting at 4 p.m.