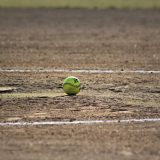 The Saltillo Lady Lions softball team scored early and often, crushing district foe Sulphur Bluff at home, 21-1.
To say the bats came alive early for the Lady Lions softball team would be an understatement. Saltillo was able to score 5 runs in the top of the first to jump out to a 5-0 lead. While Sulphur Bluff was able to score a run of their own, making it a 5-1 game, the nightmare had just begun for the Lady Bears.
Saltillo then proceeded to score 16 runs in the top of the second to take an almost unheard of 21-1 lead going in to the bottom frame of the second.
Unfortunately for Sulphur Bluff, they did not score another run as the game was called at the end of four innings, allowing Saltillo to leave the Bluff with a crushing 21-1 victory over the Lady Bears.
Chandler Bain got the victory as starting pitcher for the Lady Lions. Bain, a senior who was voted as co-MVP of District 24-1A in basketball, was the starting pitcher for Saltillo, pitched the complete four innings while giving up one run, striking out two, and hitting two Lady Bear batters.
Hitting for the Lady Lions was Chandler Bain, going 1-1 while acquiring 2 HP's, 1 Walk, and scoring 3 runs. Ryleigh Redar went 0-2, getting hit by the pitcher once, getting walked once and scoring 3 runs for Saltillo. Paisley Kastner, another Lady Lion who fared very well in basketball and was named to the All-District First team, went 2-4 at the plate, while also getting home twice.
Maddy Smith fared a bit better, going 3-4 with 3 runs. Reagan Speir went 1-2, with 2 walks and 3 runs. Julianna Giles batted 2-2, getting walked once and crossing home twice. Gabby Ross went hitless, going 0-2 at the plate but was walked once and did manage to get home. Ofelia Cabrera went 1-1 getting 2 HP and 2 runs over the Lady Bears. Finally Calli Morris was 2-3 in the box, getting 2 runs for Saltillo.
With the win, Saltillo's record improves to 2-1 overall (2-0 district). Next up, the Saltillo Lady Lions softball team will be back at home to take on Yantis for another district game for the Lady Lions. The Saltillo-Yantis softball game is set to tee off at 4:30 P.M. on Friday, Mar. 26.