CHRISTUS Trinity Mother Frances Health System started the DAISY program in early 2011.
The award is presented quarterly to the ONE best nomination, as chosen by a panel of direct care nurses from each of our seven sites. All nominations are blinded, so no one knows who has been nominated until after the winner is chosen. The winner for this quarter is Kristi Couch, RN, in the nursery department at CHRISTUS Mother Frances Hospital Sulphur Springs.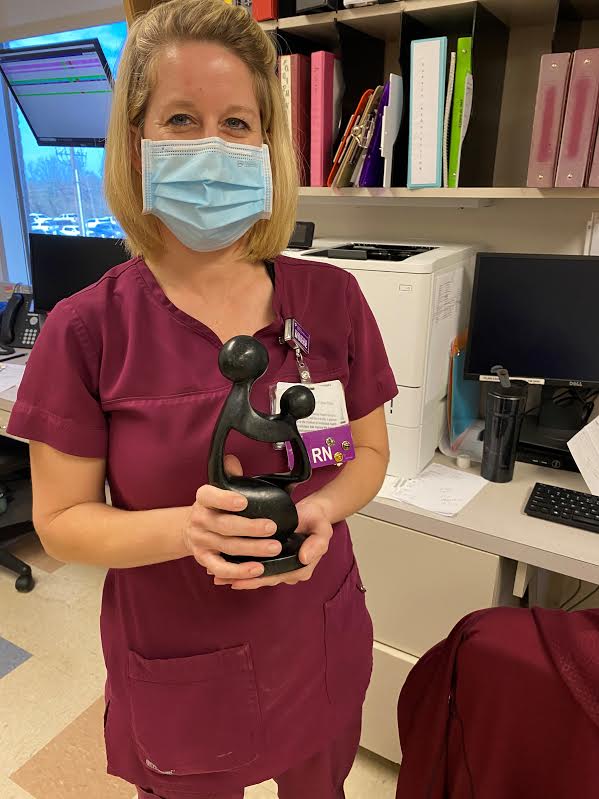 The DAISY Foundation was established in 2000 by the family of Patrick Barnes. He died at the
age of 33 of complications of ITP. Like many families you see every day who go through this
kind of horrific loss, the Barnes family wanted to find a way to turn their grief into something
positive and do something that would honor the very special man Patrick was. Over a dinner
right after Pat's death, they came up with DAISY – an acronym for Diseases Attacking the
Immune System.
As they brainstormed what The DAISY Foundation would do, they kept coming back to the one positive thing they held on to during Pat's 8 week illness: the amazing care he – and all the
family – received from Pat's nurses, even when he was completely sedated. The family was so
impressed by the clinical care Pat's nurses provided, and they were overwhelmed by the level of compassion and kindness that his nurses brought to Pat's bedside day in and day out. The family came to understand that the communication and attention being paid to Pat was a very important part of the clinical care which nurses provide.
Because of their experience, The Barnes Family believes that nurses are unsung heroes of our
society who deserve far more recognition and honor than they receive. They decided to find a
way to say thank you to nurses. So Pat's wife, Tena, his parents, Bonnie and Mark and other
family members created The DAISY Award for Extraordinary Nurses. There are now 2,000
healthcare facilities in fifteen countries committed to honoring their nurses with The DAISY
Award.