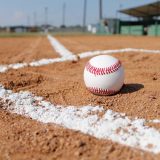 The North Hopkins Panthers Baseball Team opened district play in the right way defeating rival Sulphur Bluff, 8-5 Tuesday at North Hopkins.
The Panthers jumped out to a 7-0 lead with a run in the first, 5 more in the second and one more run in the fourth. The Bluff rallied for 5 late runs but could not overcome the Panthers.
North Hopkins outhit the Bears, 8-7. North Hopkins used three pitchers to get the win. Karston Jenkins was the winning pitcher going 5 innings allowing 4 hits, no runs with 8 strikeouts and 3 walks.
Tate Myers allowed a hit and 3 runs none of which were earned due to errors and he walked one. Dakota Smith finished up with 2 innings giving up 2 hits, 2 unearned runs with 4 strikeouts. Smith was 3 for 4 with 2 RBI's and a run scored. Jenkins was 2 for 3 with 2 RBI's and a run scored. Aaron Nguyen was 1 for 3 with 2 RBI's. Chris Cruz had an RBI. Carson Mathis was 1 for 3 with 2 runs scored. Landry Breckeen was 1 for 4 with a double and a run scored. Myers, Robert Perry and Clinton Degen all scored one run.