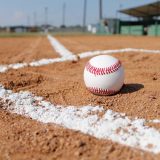 The North Hopkins Panthers ended up on the wrong end of a 16-2 score as they played the Edgewood JV Tuesday (March 9).
The Bulldogs JV scored 5 runs in the first inning and added 6 more in the second and 5 more in the fifth. The Panthers scored their 2 runs in the bottom of the first.
Edgewood JV outhit North Hopkins, 12-6. The Panthers had 2 errors.
Dakota Smith took the pitching loss going an inning and 2/3's giving up 6 hits, 4 walks and 10 earned runs with 3 strikeouts. Landry Breckeen went the last 3 1/3 innings.
Smith and Aaron Nguyen drove home runs. Nguyen hit a triple. Smith and Karson Jenkins had 2 hits. Frank Valdez had a hit and Jack Jackson scored a run.