Hopkins County's COVID-19 new case counts have gone down as has the total number of patients in the COVID-19 unit in the area, across the region and state, as have the number of individuals being tested daily, while the number of people receiving COVID-19 vaccinations have increased, according to Texas Department of State Health Services' March 8 COVID-19 reports. Unfortunately, five additional COVID-19 deaths have also been confirmed in the last week, including one death reported to have occurred on Tuesday, March 2.
COVID-19 Case Counts
As of Monday, March 8, a total of 2,951 COVID-19 cases have been reported: 1,527 confirmed by molecular testing and 1,424 probable cases, that is cases among individuals who have either tested positive through an antigen test or have a combination of symptoms and a known exposure to someone with COVID-19 without a more likely diagnosis. Three new molecular cases were reported Monday, and 16 so far this month. Two probable new cases have been reported so far this week, one each on Sunday and Monday, and 15 probable cases so far this month.
The number of COVID-19 recoveries is currently keeping pace with confirmed new cases, with 16 Hopkins County COVID-19 patients reported to have recovered so far this month, including four on Sunday and two on Monday, according to the March 8 COVID-19 Case Counts dashboard.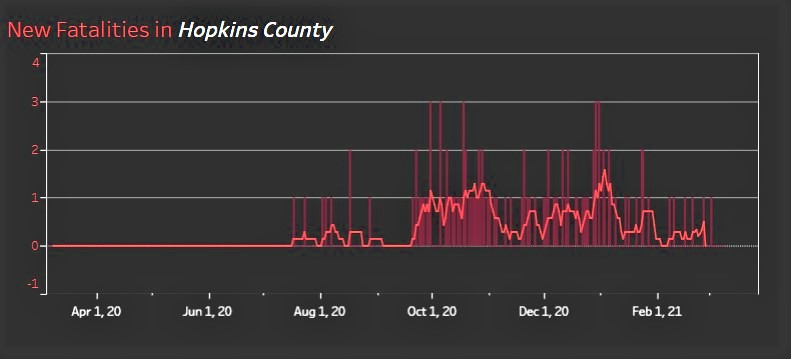 Five COVID-19 fatalities have also been announced this month, all except one occurring in February. That increases the total number of Hopkins County residents confirmed by death certificate to have died as a direct of COVID-19 since last March to 105, including five reported to have occurred in February, down from 15 confirmed for January 26 and 6 in December. The latest confirmed COVID-19 death occurred on March 2, according to the DSHS March 8 COVID-19 County Trends dashboard.
That leaves 170 active COVID-19 cases of COVID-19 among Hopkins County residents as of midafternoon March 8, up from 167 on Sunday and March 1, but still below the 173 reported March 2, 175 last Wednesday and Thursday, and 171 on Friday.
Hospital and Testing Data
The patient count in the COVID Unit at CHRISTUS Mother Frances Hospital Sulphur Springs continues to be a single digit number for a week. The local hospital was reported to have six patients in the COVID-19 Unit Monday, the same as on Thursday, but one more than on Friday. Last week, CMFH-SS started with a case count of 10 in the COVID unit, but has remained below that mark ever since. In fact, the case count has been cut in half in each of the last two months. During the first eight days of January CMFHSS' COVID-19 patient counts ranged from 29 to 32. The COVID unit patient count ranged from 10-14 Feb. 1-8.
This reflects a state trend over the past couple of months of fewer people being hospitalized for COVID-19. On Jan. 1, a total of 12,319 COVID-19 patients were being treated in Texas hospitals, including 204 cases in Trauma Service Area F (which includes most of Northeast Texas north and eastward to the state line). On Feb. 1, a total of 11,002 COVID-19 patients were reported to be in Texas hospitals, with 143 of those lab-confirmed novel coronavirus 2019 cases from TSA F. On March 1, Texas had 5,644 COVID-19 hospital patients, including 65 patients in TSA F hospitals. As of Sunday, the COVID-19 hospital patient count had decreased to 4,329, including 41 patients in TSA F hospitals.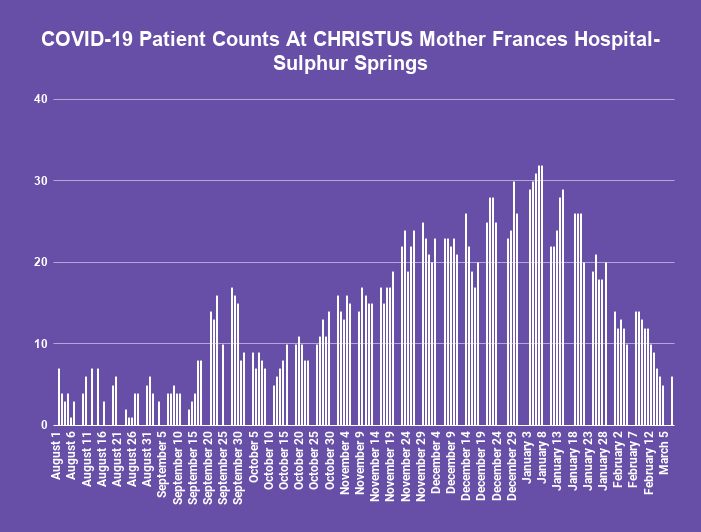 From March 1-7, a total of 129 molecular COVID-19 tests had been performed at the free testing site in Sulphur Springs. From Feb. 1-7, 420 oral swab tests were performed, down from 668 tests conducted Jan. 1-7 and 531 tests performed at the free testing site from Dec. 1-7. Hopkins County/Sulphur Springs Emergency Management officials, in the March 8 COVID-19 update, showed a cumulative total of 9,856 COVID-19 cases have been performed at the free testing site since the facility opened in the fall.
Free oral swab COVID-19 testing has been extended through the month of March in Sulphur Springs. Testing is typically offered from 9 a.m. to 6 p.m. Monday-Friday and from 9 a.m. to 5 p.m. Saturdays inside the Red Cross (old Fidelity Express) building in Sulphur Springs. Free molecular COVID-19 testing is open to anyone regardless of age or address. However, registration is required online at www.GoGetTested.com in order to be tested at 128-A Jefferson Street in Sulphur Springs.
According to the DSHS March 8 COVID-19 Hospital and Test Data dashboard, 15,643 molecular tests have been conducted in Hopkins County since last March, including 26 on Sunday. Since the state began tracking the data, 2,758 antigen tests have been conducted in Hopkins County, including 33 tests on Sunday, and 1,828 antibody tests. Overall, that's 20,229 COVID-19 tests conducted in Hopkins County and reported to DSHS.
Vaccine Data
As of Sunday, March 7, a total 5,985 Hopkins County residents had received at least one dose of the two-dose COVID-19 vaccines available for people in approved groups, including 2,375 county residents who have been fully vaccinated with both doses of the COVID-19 vaccine, leaving 3,610 residents who were still awaiting the second dose of either the Pfizer or Moderna COVID-19 vaccine. That's up from 1,925 who'd received one dose and 420 both doses of the COVID-19 vaccine on Feb. 7, and 377 one-dose and 2 who'd been fully vaccinated for COVID on Jan. 7.
In addition to the race and gender breakdown reported on the DSHS March 8 COVID-19 Vaccine Data dashboard, DSHS also is now reporting the number of individuals vaccinated for COVID-19 by Zip Code. A total of 1,227 Sulphur Springs residents (1,196 in the 75482 Zip Code and 65 in the 75483 Zip Codes) had been fully vaccinated. Among those fully vaccinated elsewhere in the county are residents in the following Hopkins County Communities: Brashear (75420) 82, Como (75431) 83, Cumby (75433) 109, Dike ( 75437) 60, Pickton (75471) 54, Saltillo (75478) 63 and Sulphur Bluff (75481) 42. There are some Hopkins County residents who have Winnsboro and Yantis addresses. A total of 339Yantis residents with a 75497 Zip Code have been fully vaccinated and 596 in Winnsboro had received both doses of the vaccine, according to the DSHS March 8 COVID-19 Vaccine Administration Data by ZIP Code report.
Town by Zip Code
Fully Vaccinated
Receiving 1 Dose
Total Doses
Administered
Sulphur Springs 75482
1,196
2,879
4,653
Sulphur Springs 75483
65
90
153
Brashear 75420
82
134
213
Como 75431
83
146
229
Cumby 75433
109
299
444
Dike 75437
60
109
159
Pickton 75471
54
101
155
Saltillo 75478
63
100
163
Sulphur Bluff 75481
42
62
104
Winnsboro 75494
596
1132
1726
Yantis 75497
339
644
983
COVID-19 Vaccinations administered by Zip Code for communities with Hopkins County residents as reported in the March 8 COVID-19 Vaccine Administration Data by ZIP Code report.
There's good news for Hopkins County: Texas Department of State Health Services has allocated 500 doses of COVID-19 vaccine to Hopkins County providers for Week 13 of distribution. This week (March 8) Brookshire's Pharmacy and CHRISTUS Trinity Clinic-Sulphur Springs have been allocated 100 doses each of the Johnson & Johnson COVID-19 vaccine, which only requires 1 dose. CHRISTUS Mother Frances Hospital-Sulphur Springs was also allocated 300 first doses of the two-dose Moderna vaccine. That means 200 more will be fully vaccinated as soon as the J&J vaccines arrive and providers can schedule appointments for the shots, and 300 additional people can begin the vaccine process, potentially this week. These are in addition to the 200 doses scheduled to arrive this week to serve as as second dose of the vaccine. That's the potential for 400 to become fully vaccinated for COVID-19 this week in Hopkins County. Some have opted instead of being placed on long waiting lists to drive to other counties that have large hubs or have received considerably more doses of the virus in the past couple of months.
People can find more information on COVID-19 vaccine at dshs.texas.gov/covidvaccine/.
Additional COVID-19 Vaccine data: