COVID-19 numbers in Hopkins County are coming down overall as the number of residents receiving COVID-19 vaccinations increases, with more recoveries this month than new cases so far. Unfortunately, the number of COVID-19 fatalities continues to rise in Hopkins County too, according to Texas Department of State Health Services' March 13 COVID-19 dashboards and reports.
Case Counts
The new confirmed cases reported so far this month is the fewest number of new confirmed COVID-19 cases reported during the first 13 days of the month since July, when 23 Hopkins County residents received lab-confirmed positive molecular COVID-19 results during that period and 89 the entire month. July was also the first month in which a Hopkins County resident was confirmed by death certificate to have died as a direct result of COVID-19.
Over the last three months the daily confirmed case count has been steadily decreasing. In December 2020 and January 2021, 138 Hopkins County residents had received lab-confirmed positive COVID-19 test results as of the 13th of the month. While there were 240 confirmed COVID-19 cases Dec. 1-28 and a total of 290 on Dec. 31, that number was slightly less for Jan. 1-28, with 232 new confirmed cases, and was down to 247 by Jan. 31. In February, 93 county residents had received lab-confirmed positive COVID results by the 13th and 135 on the 28th. Of the 28 new confirmed molecular cases reported this month, 15 new cases were reported this week: three on Monday, four each on Tuesday and Saturday, one each on Wednesday and Thursday and two on Friday, according to the DSHS March 12 COVID-19 Case Counts dashboard and New Probable Cases over Time by County report.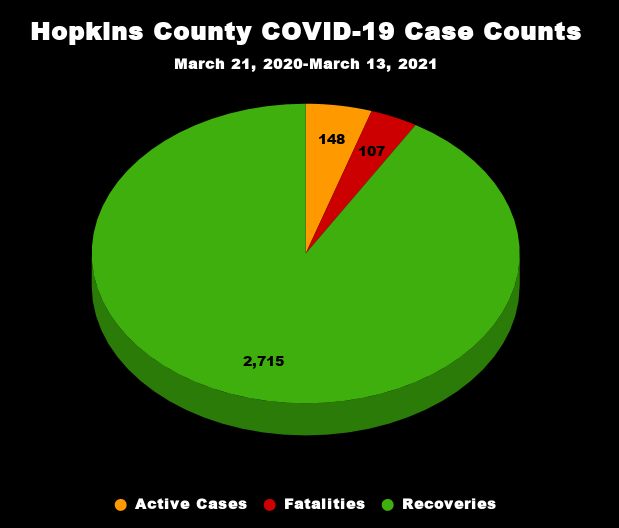 Twenty additional probable cases have also been reported during the first 13 days of March, including four Saturday, two on Friday and one each on Monday, Tuesday and Thursday. That's down from 85 new probable cases reported for Hopkins County Feb. 1-13 and 80 new probable cases from Jan. 1-12. Texas Department of State Health Services did not begin reporting new probable cases daily until Dec. 11; a total of 963 probable cases had been documented since the state agency began requiring healthcare agencies to report positive COVID-19 antigen test results and cases in which a county resident has a combination of symptoms and a known exposure to someone with COVID-19 without a more likely diagnosis. Thirteen new probable cases were reported on Dec. 11, and 40 from Dec. 7-11.
A total of 54 Hopkins County residents have recovered from COVID-19 this month, 45 of those this week – Four Sunday, two Monday, three Tuesday, 15 Wednesday, six Thursday, eight Friday and seven Saturday. That means recoveries outpace new cases, 55 to 48 so far this month.
Cumulatively, that's 2,715 recoveries out of the 2,972 Hopkins County residents who've had COVID-19 since March 21, 2020 (the date local emergency management official began giving regular updates regarding COVID-19 cases in Hopkins County).
Unfortunately, there have also been three Hopkins County residents confirmed this month to have died from COVID-19, two on March 2 and one on March 6. So far, that's one more COVID-19 fatality than during the first 13 days of February, which concluded with five COVID-19 deaths. In fact, the last time the monthly COVID-19 death total was a single digit was last August, when six Hopkins County residents died from novel coronavirus 2019. Cumulatively, that's 107 Hopkins County residents who have been confirmed by death certificate to have died from COVID-19 in the last year.
That reduces the active COVID-19 cases count among Hopkins County residents from 172 last Saturday to 148 March 13. While not as low as the 129 active cases on Nov. 13, the 148 active cases is significantly less than the 267 active cases reported Dec. 13, the 239 active cases on Jan. 13, and 208 on Feb. 13.
Vaccine Data
As of 11:59 p.m. March 12, a total 4,137 people in Hopkins County had received one dose of the COVID-19 vaccine and were waiting to receive the second of either the Pfizer or Moderna shots, that's 165 additional people getting their first dose of vaccine on Friday. Another 45 people in Hopkins County were fully vaccinated for COVID-19 on Friday, increasing the total number of vaccinated Hopkins County residents who have been fully vaccinated, either with one of the new Johnson & Johnson COVID-19 vaccines or both doses of a Moderna or Pfizer 2-dose vaccine, to 2,614. That includes 447 people who received either a first dose of the Moderna vaccine or the one-shot Johnson & Johnson vaccine the week of this week, according to the DSHS March 13 COVID-19 Vaccine Data dashboard.
Hopkins County, after a week with no allocates of doses of the COVID-19 vaccine, was allocated 500 first doses during Week 13 of distribution (March 8-14), 300 first doses of Moderna to the hospital and 200 doses of the new Johnson & Johnson vaccine (100 each to CHRISTUS Trinity Clinic and Brookshire's Pharmacy); as well as 200 second doses of the vaccine. In fact, Hopkins County providers have been allocated first doses of the vaccine in only 8 of the first 13 weeks of distribution, and second doses in only six of those weeks.
For Week 14 of distribution, March 15-21, one provider in Hopkins County is among the 445 in 178 counties across the state allocated first doses of COVID-19 vaccines. CHRISTUS Mother Frances Hospital-Sulphur Springs has been designated to receive another 300 doses of the Moderna vaccine this week to administer to eligible individuals, which starting March 15 (in addition to individuals who have certain health conditions, healthcare and emergency services workers, teachers and child care workers and adults 65 and up) has been expanded to include anyone age 50 or older who have yet to receive any COVID-19 vaccination — if they can get on a list and schedule an appointment to receive the shot.
For more information on the COVID-19 vaccine, visit dshs.texas.gov/covidvaccine
Click the following links for information on
Weekly vaccine allocations, including the full list for the week of March 15
Vaccination hub providers with contact information
DSHS/TDEM map of vaccine providers
Texas COVID-19 Vaccine Doses Wasted Report
Testing
A total 20 COVID-19 tests were conducted March 11 at the free testing site, increasing the total number of molecular tests performed at the site since it opened to 9,941.
Twenty-three molecular COVID-19 tests were performed in Hopkins County on Friday, increasing the total to 15,770 molecular COVID-19 tests conducted in Hopkins County, including all molecular tests performed not only at the free testing sites but also by healthcare providers in Hopkins County.

Four antigen tests and five antibody tests were also performed by Hopkins County healthcare providers on Friday, increasing the cumulative total reported to DSHS to 2,842 antigen tests and 1,842 antibody tests performed in Hopkins County since the state began tracking the data several months into the pandemic.
Overall, that's 51 additional COVID-19 tests performed on Friday in Hopkins County, increasing the total number of all COVID-19 tests performed in Hopkins County and reported over the last year to DSHS to 20,473, according to the DSHS March 13 COVID-19 Test and Hospital Data dashboards.
Free COVID-19 testing will continue during the month of March at 128 Jefferson Street in Sulphur Springs. Online registration is required at GoGetTested.com to schedule an oral swab test inside the Red Cross (Old Fidelity Express building) across College Street from First Baptist Church.
---