Hopkins County Received 153 Pallets Of Water, 2 Trailers Full Of Supplies Donated Following Winter Storms
Emergency Management Officials, Businessmen Recognized For 'Meritorious Service' During Winter Weather Disaster
Hopkins County received 153 pallets of water and two trailers full of supplies donated to help those in need in the community following February's extreme winter weather. Two emergency management officials, the sheriff and local businessmen were recognized Monday by Hopkins County Commissioners Court for "meritorious service" during and immediately following February's winter disaster.
Bottled Water Distribution
Hopkins County Emergency Management Deputy Coordinator Kristy Springfield, during Mondays special called Commissioners Court meeting, reported the county received 153 pallets of water to distribute to help county residents and others in the region who either had no water, low water pressure and those under boil water orders, especially North Hopkins Water Supply Corporation customers whose water had been turned off a few times over the weekend by the City of Sulphur Springs.
Hopkins County Emergency Management Coordinator Andy Endsley expressed appreciation to TDEM and Rep. Bryan Slaton and Senator Bob Hall's Office for going above and beyond to help.
"They really got on the ball and really helped us get things moving, Because we weren't projected to get water until this past Friday. So we'd have gone the whole week without anything. They made a lot of phone calls and they got things moving for us," Endsley said. "To all the Commissioners and precinct workers, that was a huge help having them out there, and the trustees and the sheriff's department. There's a lot of people involved in this. They got in there and joined up together, local citizens there in North Hopkins Water [Supply Corporation district]. We really appreciate it."
Texas Department of Emergency Management sent 151 pallets of water, each containing 50 cases of bottled water, and Texas Baptist Men donated two pallets of water as well. Three pallets of water were sent to neighboring Delta County and 48 pallets to Lamar County, which were also experiencing water issues as well. Springfield reported.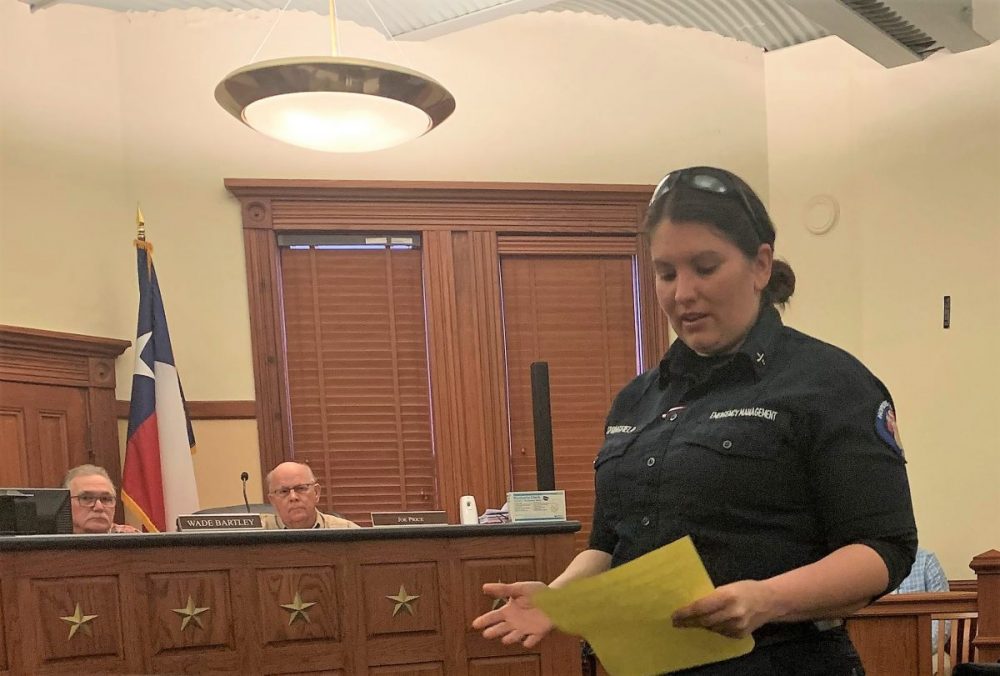 County officials staged at Joe Bob's store in Birthright most days from 8:30 a.m. until nearly 7 p.m. Monday-Thursday, Feb. 22-25, handing out water two cases per household at a time to NHWSC residents. Overall, 58 pallets of water were distributed to NHWSC customers.
Five pallets of water went to North Hopkins ISD and three pallets of water to Sulphur Bluff ISD so the schools, which had to cancel classes Monday, Feb. 22, due to the lack of water, could resume classes. Precinct 1 and Precinct 3 received three pallets of water. The City of Sulphur Springs received five pallets of water for customers in the city with water issues as well.
Overall, that's 128 pallets of water distributed last week in Hopkins County, leaving 25 pallets that are still available in the county if anyone is still in need of water. Water in the county is in the process of being relocated to Hopkins County Community Chest, and will be available by contacting the agency as soon as that process is complete. Anyone living in Sulphur Springs who is still in need of water may contact Sulphur Springs Police Department at 903-885-7602.
Rewritten Story Donation
Hopkins County Sheriff Lewis Tatum also reported that The Rewritten Story Foundation from North Carolina over the weekend donated two trailers and vehicles packed full of supplies to the county to help those in need following the winter storms. The organization's purpose is to to "provide aid in times of crisis and pay tribute to our nation's heroes."
The sheriff explained that the North Carolina group heard about the problems in Texas and wanted to help. Randy Vann, a new resident here in Hopkins County, reach out to them last week via Facebook and asked if he could bless some residents of Hopkins County after the winter storms.
Tracy Story, a tire shop owner in North Carolina who founded the organization and serves as a part-time deputy/drug interdiction officer at Halifax County who donates his pay from the county to charities, asked his community for donations.
Story, Thomas Barrett, Randy Rolfe, Sean Cook and Caleb Cook made the 26 hour drive from North Carolina Friday to reach Hopkins County Sheriff's Office at 7:30 Saturday to deliver the two trailer loads of donated items for local individuals.
The donations included everything from water to socks, diapers, blankets, Gatorade, clothing, formula, wipes, hand sanitizer, towels, vitamins, personal hygiene products, laundry detergent, cleaning supplies, batteries, paper products, pet food, peanut butter and jelly and lots of other food. Tatum said the items were donated with the condition only to that it be used for help anyone who might be in need.
The dog food has already been donated to an animal rescue group in northern Hopkins County.
Tatum asked the court's approval to donate the items, which are being sorted over the next couple of days, to residents in "Section 8 apartments on Woodlawn Street." He said the amount wasn't enough to open to the entire county to meet needs, but officials at HCSO feel there's enough items to put into boxes and distribute to those needy individuals at the location to help them out.
The Commissioners Court expressed appreciation to The Rewritten Story Foundation of North Carolina for their generosity and gladly approved the donations to be distributed a box each to individuals in need in the community.
Service Recognition
The Commissioners Court recognized Burgin and employees at Joe Bob's/Burgin Pipe in Birthright for "meritorious service provided during the disaster of the winter weather of February 2021."
"I'd like to recognize Kristy and our Fire Marshal Andy Endsley for all the work they did to get us the water and helped distribute it. I appreciate you," Barker said.
"I'd like to thank Mr. Joe Bob Burgin for his part in this. Through Burgin Pipe out there, they loaned us their lot to distribute these about 3,000 cases of water. That was a lot of work. Without Luke, your supervisor out there helping unload that, we'd have had an awful big job on our hands. And Joe Bob, I certainly appreciate you," Precinct 4 Commissioner Joe Price said.
"We went to Corey, when we saw we saw we were going to have a large amount of water coming in. I asked him for permission. He said, 'Don't ask me again, just bring whatever you'd got to do.' So was very cooperative and helpful. I appreciate that," Barker said.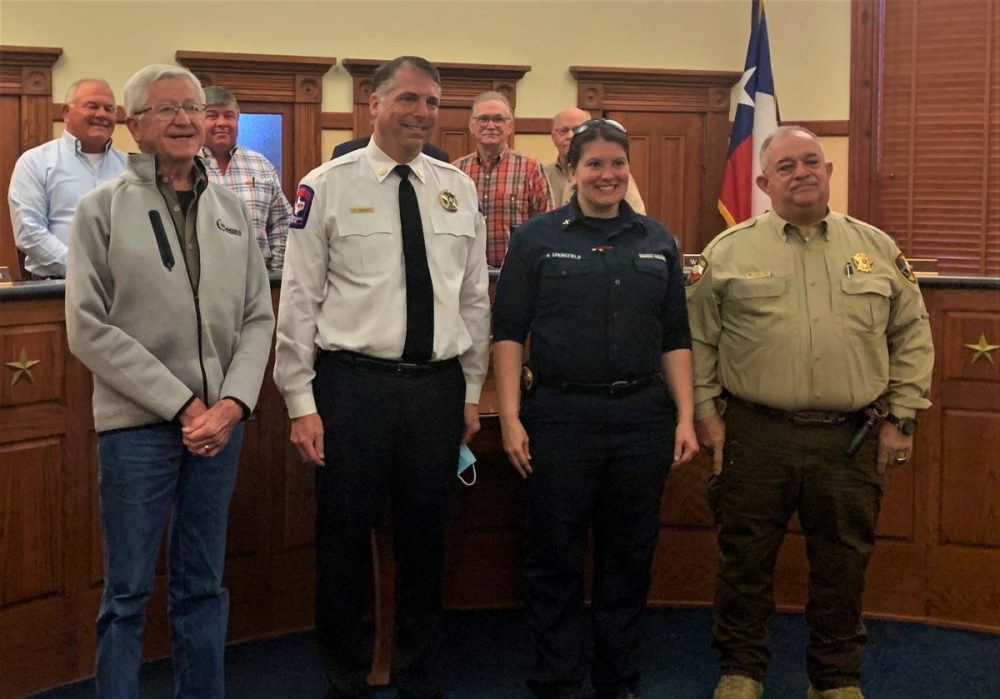 Price expressed thanks to him for allowing the county to disrupt the flow of traffic and business, and assisting in unloading. At one point on Wednesday, eight 18-wheelers sent by TDEM arrived at one time filled with pallets of water.
Barker and Price's precinct crews also assisted at the water distribution site, as did the jail trustees.
recognized Joe Bob and Corey Burgin for allowing the county to use the Burgin Pipe and Steel property connected to Joe Bob's in Birthright to distribute the water at a central location for distribution to NHWSC residents last week and assistance from business employees in unloading the pallets.
Joe Bob Burgin, who was on hand at Monday's Commissioners Court meeting, noted they were glad to be able to help.
"This has been a quite a trying time for the county, you came through and pulled together," Newsom said.