While many businesses were preparing to fully reopen and many people were celebrating the lifting of mask requirements Tuesday, Texas Department of State Health Services announced the 106 COVID-19 fatalities have now been confirmed for Hopkins County, including two deaths which occurred this month. Eleven additional residents were also reported to have contracted the virus this week, according to the COVID-19 Case Counts dashboard.
That's five additional COVID-19 deaths reported in the last week. Two of the confirmed COVID_19 deaths occurred on March 2, the three other COVID deaths occurred in February. In fact, the five coronavirus deaths reported for Hopkins County in February (one each on Feb. 7, 10, 16, 20 and 26) is the least fewest monthly total since July, the first time Hopkins County had any confirmed COVID-19 deaths, when 2 deaths were reported.

Of the 106 fatalities, 57 were residents of the four nursing facilities in Sulphur Springs, including one nursing home death reported on Feb. 23, according to Texas Health and Human Services' March 10 COVID-19 nursing facilities report, which reflects statistics only through Feb. 24, the most recent data available from HHS for Texas nursing facilities.
That's 0.29 percent of the Hopkins County population (106 of 37,084 residents) who have died as a direct result of COVID-19. Red River County also has a COVID-19 fatality rate of 0.29 percent (35 of the population of 12,023 residents). That means Hopkins and Red River County have had the same fatality rate among the entire population as El Paso County, where 125,985 of 839,238 residents have had confirmed cases of COVID-19, including 2,422 residents who have died a result of the the virus over the last year.
In the 9-county area included and within 100 miles of Hopkins, only one other county has a higher fatality rate among all residents than Hopkins and Red River counties; Lamar County has a 0.30 fatality rate (150 COVID-19 deaths out of the 49,859 population). Although Hunt County has had the most confirmed positive cases (5,255), Hunt also has the lowest fatality rate among the total population in the 9-county region (0.16 percent or 153 death out of the 98,594 population). Not surprising is the fact that Hunt County also has the lowest fatality rate among confirmed-COVID-19 positive residents: 2.93 percent of confirmed COVID-19 positive Hunt County residents (154 of 5,255) have died as a direct result of the virus during the last year.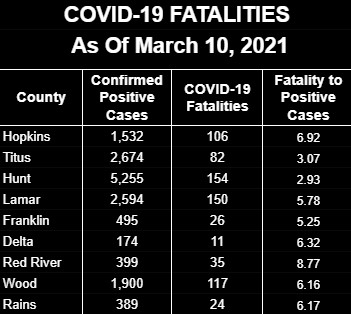 Red River County has the highest fatality rate among residents who have received lab-confirmed positive molecular COVID-19 test results over the last year: 8.77 percent of Red River County's confirmed COVID-19 cases (35 of 399 cases) ended in death. Hopkins County has the second highest COVID-19 fatality rate of 6.92 percent among residents confirmed by molecular testing to have COVID-19 over the last year (106 of 1,531 positive cases).
Delta County, which not only has the smallest population (5,331 residents), also has the smallest confirmed COVID-19 cases count (173), and the fewest number of COVID-19 fatalities: 11 of the 173 confirmed cases died for a 6.36 percent death rate among virus-infected Delta County residents and 0.21 percent among the total population.
Titus County, which has about 4,335 less residents than Hopkins, has had only 82 fatalities from among 2,674 confirmed cases (third highest number of cases in the 9-county region), giving Titus County the second lowest fatality rate (3.07 percent) among infected individuals, but 0.25 percent among the total population of about 32,750.
---