Sulphur Bluff VFD received a Community Builder Award from Sulphur Bluff Masonic Lodge No. 246, presented by Wade Bartley during the public forum portion of the Feb. 8 Hopkins County Commissioners Court meeting.
The award recognized outstanding non-Masons who have distinguished themselves through their service to the community; to local, state and national governments; to the church or to humanity, and may be found in service clubs, through public school systems, religious activities and office in military or patriotic organizations, through all sorts of volunteer work, Bartley noted.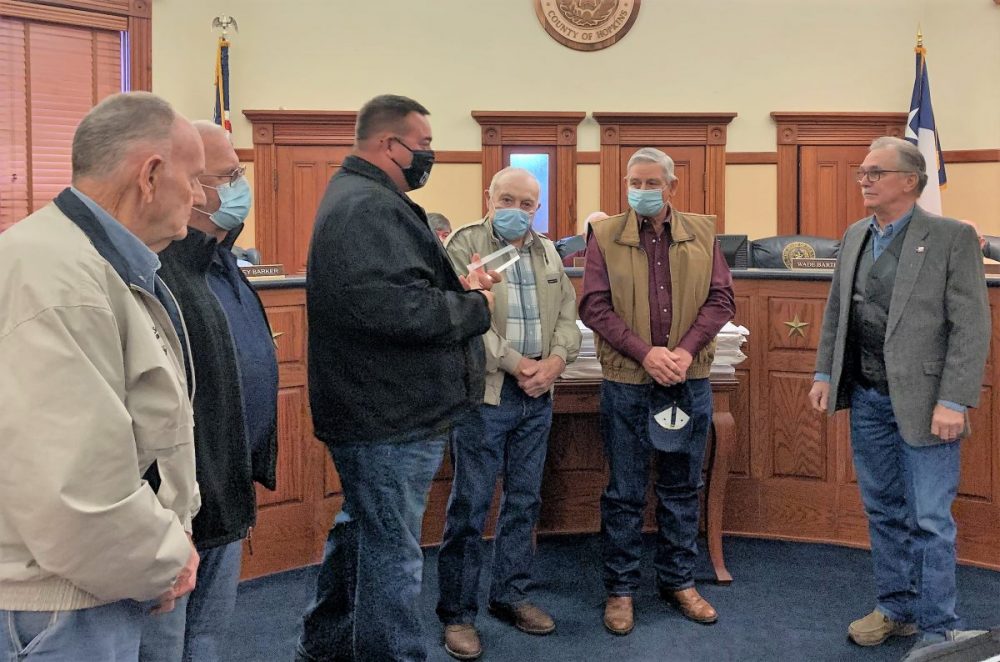 "They do a lot of things you don't see. They are out there protecting no only just their neighbors but the county as a whole. They're there to serve everyone. They do it without any fanfare and they don't expect any recognition. They just go out there and they help take care of their neighbors, and that is what this is all about," Bartley noted. "The volunteer fire department has gone through many changes since 1975, and today, they're still there serving their community members, their neighbors, to help save their property, lives or whatever the need there may be. So, it is with great pleasure that I get to present this Community Builder award to Sulphur Bluff fire department for distinguished service and contribution to the community of Sulphur Bluff and Hopkins County."
Bartley presented the award, on behalf of Masonic Lodge No. 246 and the Grand Lodge of Texas, to Sulphur Bluff VFD Chief Chris Bassham, and extended thanks and appreciation to him and all the members of SBVFD for all of their help.
Sulphur Bluff Volunteer Fire Department has a heritage of providing fire protection in Hopkins County following a disastrous fire at the Sulphur Bluff School gym. Over a dozen community members gathered in 1974 to begin organizing the department to provide fire protection for Hopkins County. Some of those citizens and/or family members continued to serve a volunteers for the department. Sulphur Bluff VFD was founded in late 1975 as one of the first Volunteer Fire Departments to serve Hopkins County;
T.L. Sanderson supported these efforts by lending a 1968 Chevy milk truck to serve in hauling water to the site where volunteers operated with buckets and water-soaked feed sacks.
In 1976, with revenue sharing money and the assembly of units in Wichita Falls, Sulphur Bluff received the first of five fire trucks purchased as 1976 one-ton chassis by Hopkins County through Price Ford Sales of Sulphur Springs. In their efforts to generate revenue toward the purchase of land and construction of the Sulphur Bluff Volunteer Fire Department facility, the volunteer firemen hauled a 1976 half-ton pickup truck to area events throughout northeast Texas to sell tickets. As of 2020, SBVFD had 13 members supporting six fire apparatus who continue to serve and protect the Sulphur Bluff community and Hopkins County.