While no new COVID-19 cases nor recoveries were reported in Hopkins County on Sunday, 13 new cases and nine recoveries were reported on Monday, according to Texas Department of State Health Services Feb. 8 COVID-19 Case Counts dashboard. Another 81 doses of the COVID-19 vaccine were also administered and COVID-19 hospitalizations remained low over the weekend.
COVID-19 Case Counts
Three Hopkins County residents Monday received lab-confirmed, positive molecular COVID-19 test results, increasing the total so far this month to 59 new confirmed COVID-19 cases and the cumulative total since the pandemic began last March to 1,428.
Ten probable COVID-19 cases were reported Monday, increasing the total so far this month to 69 Hopkins County residents who have either received a positive antigen test result or wh have a combination of symptoms and a known exposure to someone with COVID-19 without a more likely diagnosis. Cumulatively, 1,330 probable COVID-19 cases have been reported for Hopkins County, according to the Feb. 6 COVID-19 Case Counts dashboard.
Nine additional Hopkins County residents tested positive for COVID-19. That makes 50 residents who have recovered from COVID-19 this month. Cumulatively, 2,466 of the 2758 Hopkins County residents who've had COVID-19 are reported to have recovered from the virus.
That left 194 Hopkins County residents reported to still actively have COVID-19 Monday afternoon.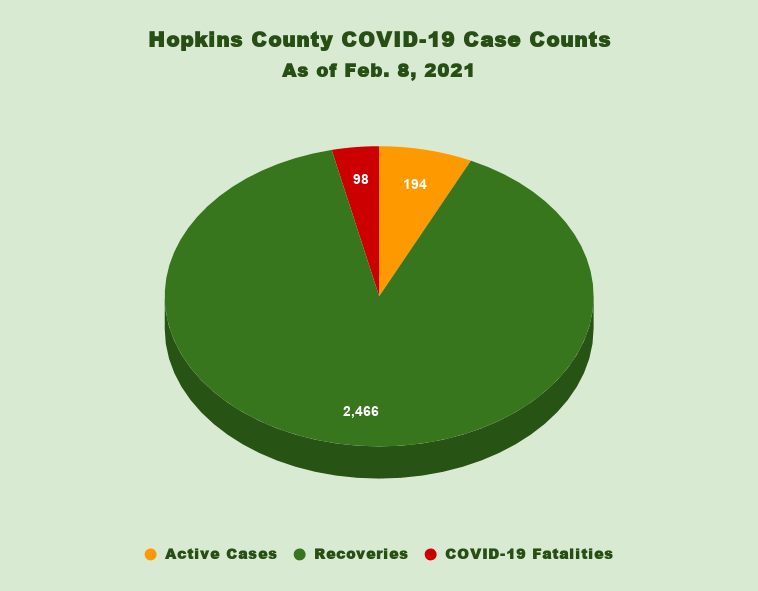 Hospital Reports
COVID-19 hospitalizations remained relatively low in Hopkins County and continued to decrease across Trauma Service Area F and the state.
Hopkins County/Sulphur Springs Emergency Management, in the Feb. 8 COVID-19 update, reported the patient count in the COVID Unit at CHRISTUS Mother Frances Hospital-Sulphur Springs was 14 on Feb. 8, the same as Monday, Feb. 1, but four more than on Friday.
COVID-19 hospitalizations dropped form 131 Friday to 123 Saturday and 118 on Sunday in TSA-F, according to the DSHS Feb. 8 COVID-19 Test and Hospital Data dashboard. The last time the COVID-19 hospitalizations across TSA-F was that low was in October and November; 115 lab-confirmed COVID-19 patients were in TSA-F hospitals on Nov. 8, 119 on Oct. 31 and 110 on Oct. 30, according to the Feb. 8 Combined Hospital Data over Time by Trauma Service Area report.
COVID-19 patients made up on 10.95 percent of the total hospital capacity in TSA-F on Sunday, down from 12 percent on Friday and 11.1 percent on Saturday. COVID-19 cases have continued to represent less TSA-F hospital capacity daily since Jan. 31.
COVID-19 Testing
HC/SSEM reported 9,402 COVID-19 tests had been performed at 128-A Jefferson Street since the Red Cross building was converted to a free testing center in the fall. That means a total of 134 additional tests were performed at the site Friday and Saturday.
Cumulatively, 14,734 molecular COVID-19 tests have been conducted in Hopkins County since the pandemic began.
On Saturday and Sunday, 56 antigen tests and five antibody rers were performed in Hopkins County on Saturday and Sunday, increasing the total since DSHS began tracking the data to 2,006 antigen tests and 1,789 antibody test performed in Hopkins County.
Cumulatively, that's at least 18,529 COVID-19 tests conducted in Hopkins County since the pandemic began and DSHS began requiring reports for testing.
Free oral swab COVID-19 testing has been extended through the month of February in Sulphur Springs. Testing is typically offered from 9 a.m. to 6 p.m. Monday-Friday and from 9 a.m. to 5 p.m. Saturdays inside the Red Cross (old Fidelity Express) building in Sulphur Springs.
Free testing is open to anyone regardless of age or address. However, registration is required online at www.GoGetTested.com in order to be tested at 128-A Jefferson Street in Sulphur Springs.
COVID-19 Vaccine
At least one dose of the COVID-19 vaccine has been administered to 2,345 people in Hopkins County. On Saturday and Sunday, 19 additional people received the first dose of the vaccine and 62 received the second dose of the two-dose COVID-19 vaccine.
Two providers in Hopkins County are listed among the 358 across the state allocated to receive some of the 401,750 first doses of COVID-19 vaccine the federal government is due to send to the state for distribution the week of Feb. 8. Brookshire's and Walgreens pharmacies have each been allocated 100 doses from the first-dose supplies of Moderna vaccine the state is slated to receive during Week 9 of vaccine distribution.
To see if you are eligible to have the COVID-19 vaccine at a Walgreens location, visit walgreens.com/schedulevaccine. For information about Brookshire's vaccine waiting list, visit https://www.brookshires.com/covid-19-information. The full list of vaccine allocations for the week of Feb. 8, vaccination hub providers with contact information, the DSHS/Texas Department of Emergency Management map of vaccine providers, and the Texas Vaccine Data dashboard can all be accessed by clicking the links. More information on the COVID-19 vaccine can be found at dshs.texas.gov/coronavirus/immunize/vaccine.aspx.