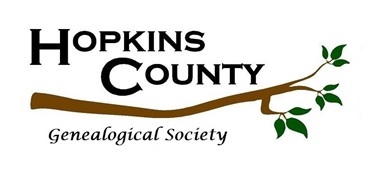 The Hopkins County Genealogical Society is opening membership for 2021 with a special offer. The regular annual membership fee is $20 per individual, and right now every member of your household can become a member for just a $25 flat fee. Generous resources through the HCGS Research Library and website, the Hopkins County Heritage Quarterly publication of current research topics, plus informative Zoom meetings are just a few reasons to join up now. And although the extensive website is open to all, an additional plus is the wealth of locally researched and published genealogical material available only to registered members.
Contact by email at [email protected] to get a membership application, go online to hcgstx.org, phone the Research Library at 903-885-8523 or request an application by mail at HCGS, P.O. Box 624, Sulphur Springs, Tx 75483. The Research Library is located at 611 North Davis Street inside the Public Library; however at this time it is not open to walk-ins but only by appointment. Some research assistance is available by phone.
HOPKINS COUNTY GENEALOGICAL SOCIETY, INC.
611 North Davis St
PO Box 624
Sulphur Springs TX 754830624
2021 MEMBERSHIP APPLICATION
Membership in HCGS is from January 1 through December 31. Annual dues are $20.00 for an Individual Membership and $25.00 for a Family Membership (2 adults living in the same household, one quarterly per household). Dues should be sent in by January 31st of the membership year. Members receive the Hopkins County Heritage, the society quarterly, following the end of each quarter, March, June, September, and December. If you join later in the year, you will receive all issues for the current year, if they are available. The March issue contains membership information and surnames being researched. When completing: Please do not put "same as last year" and please indicate (DNP) next to any information you do not want published in the quarterly.
Renewal ____ or New Member ____ EMail Address ___________________________________
Name _________________________________________Phone Number __________________
Mailing Address________________________________________________________________
City ___________________________________State _____ Zip Code______________________
(9 Digit)
Surnames I Am Researching: