The Texas Department of State Health Services has instructed the Centers for Disease Control and Prevention to ship first doses of COVID-19 vaccine to 234 providers this week. That includes 28 hub providers that will focus on large community vaccination efforts as Texas vaccinates health care workers, people 65 and older and those with medical conditions that put them at greater risk of hospitalization and death from COVID-19.
While no Sulphur Springs provider made the hub list for mass distributions, CHRISTUS Mother Frances Hospital has been allocated another allotment of 100 doses of the vaccine during Week 5 of distribution, according to the DSHS announcement Sunday, Jan. 10.
The hub providers are scheduled to receive 158,825 doses of vaccine, based on the number of people each provider estimated it could serve in a week. The nearest providers to Hopkins County are in Tyler and the Dallas-Fort Worth Metroplex area.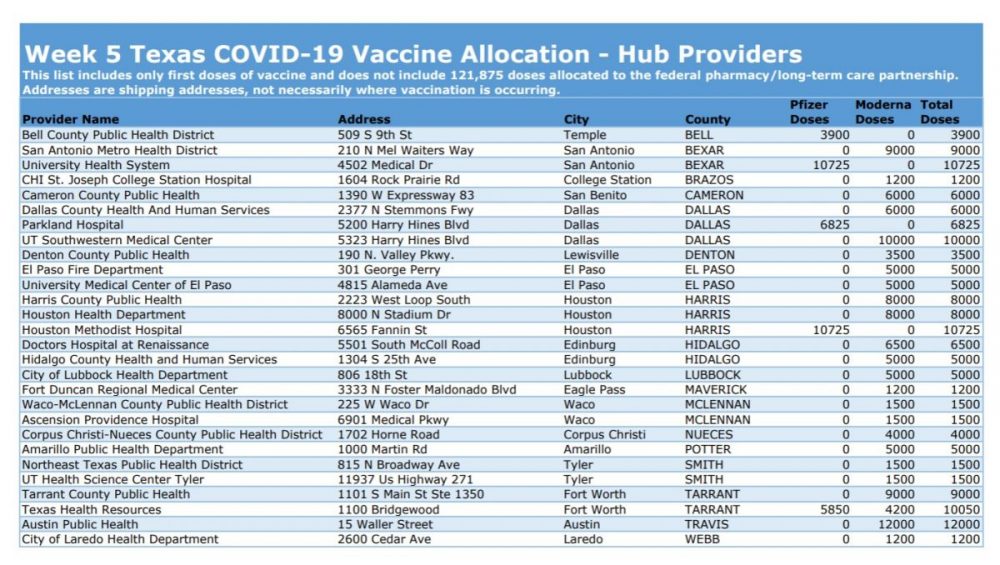 For additional information about vaccinations at Northeast Texas Public Health District (the region serves Wood County and Rains Counties as well as Smith, Gregg, Van Zandt, Henderson, and Anderson Counties), including registering or being placed on a waiting list, click here. For additional information about vaccinations at UT Health Science Center Tyler, click here.
Appointments for community members in 1A and 1B to receive a COVID-19 vaccine at CHRISTUS Clinic are conducted online only at christushealth.org, by clicking the yellow chat icon on the homepage to connect with the "virtual assistant Christy. After answering screening questions to regarding 1A and 1B status, community members can then select the nearest CHRISTUS location and if any appointments are available, schedule at that time.
An additional 38,300 doses will go to other providers, such as CMFH-SS, to continue vaccination in communities statewide. Providers in 104 counties have been allocated vaccine shipments this week, bringing the cumulative number of counties that have received quantities of the vaccine to 222 as of Week 5 of the vaccination allocations. Vaccine has been administered to residents of all 254 Texas counties, DSHS reports.
In addition to CMFH-SS, other vaccine providers in counties around Northeast Texas approved to receive a smaller shipment of vaccine this week include: Ut Health Quitman Hospital in Quitman, Paris Regional Medical Center, Christus Trinity Mother Frances Rehabilitation Hospital and DSHS PHR 4/5N HQ in- Tyle and Prmc Healthcare Group, Inc – Clarksville.
Texas has also reserved 121,875 doses for the federal Pharmacy Partnership for Long-Term Care program. This will complete the first doses the state has been required to set aside, which should free up more vaccine to be shipped to providers each week in the future. Texas providers will also receive about 500,000 doses intended as the second dose for people first vaccinated a few weeks ago, DSHS noted in the Jan. 10 announcement.
Vaccine remains limited based on the capacity of the manufacturers to produce it, so it will take time for Texas to receive enough vaccine for all the people in the priority populations who want to be vaccinated. The supply is expected to increase in the coming months, and additional vaccines are in clinical trials and may be authorized by the Food and Drug Administration.
More information on the COVID-19 vaccine can be found at: dshs.texas.gov/coronavirus/immunize/vaccine.aspx.
Additional helpful links: