Hopkins County officials started 2021 with the swearing-in ceremony for officials elected to office in November. The second floor courtroom at Hopkins County Courthouse was packed at 10 a.m. Friday, Jan. 1, with family, friends and community members witnessing the oath of office and service issued to seven elected county officials and for the sheriff's officers.
Hopkins County Judge Robert Newsom welcomed everyone to what he called a "very important, historic day in Hopkins County." Newsom administered the oath of office from the Constitution to 8th Judicial District Judge Eddie Northcutt, as well as to Precinct 1 Commissioner Mickey Barker, Precinct 3 Commissioner Wade Bartley, County Attorney Dustana "Dusty" Hyde Rabe and Sheriff Lewis Tatum, who were all reelected on Nov. 3.
Many elected officials brought their own Bibles, held by their spouses or family members, as their oath was administered. County Attorney Dustana Hyde Rabe asked Amy Griggs to do the honors for her.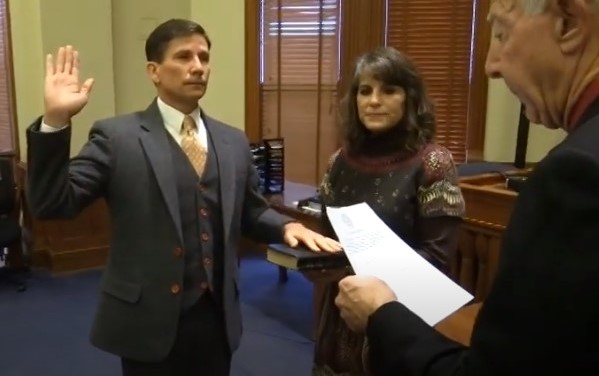 Northcutt said he is "humbled, honored and privileged to be able to serve" a third term as district judge. He noted the past year presented unprecedented challenges, including holding court in completely different ways. Three jury trials have been held at the Civic Center, complete with masks, face shields and social distancing. He offered thanks to everyone involved in and linked to the justice system for their incredible cooperation and support.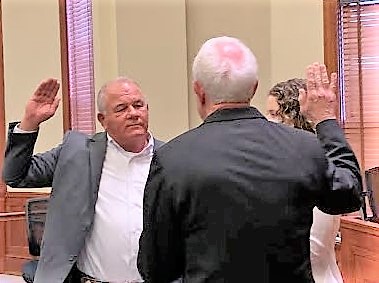 Barker noted the last four years have been an exciting time and eye-opening experience. He said the Commissioners Court has achieved a lot during those four years and is proud to be a part of it.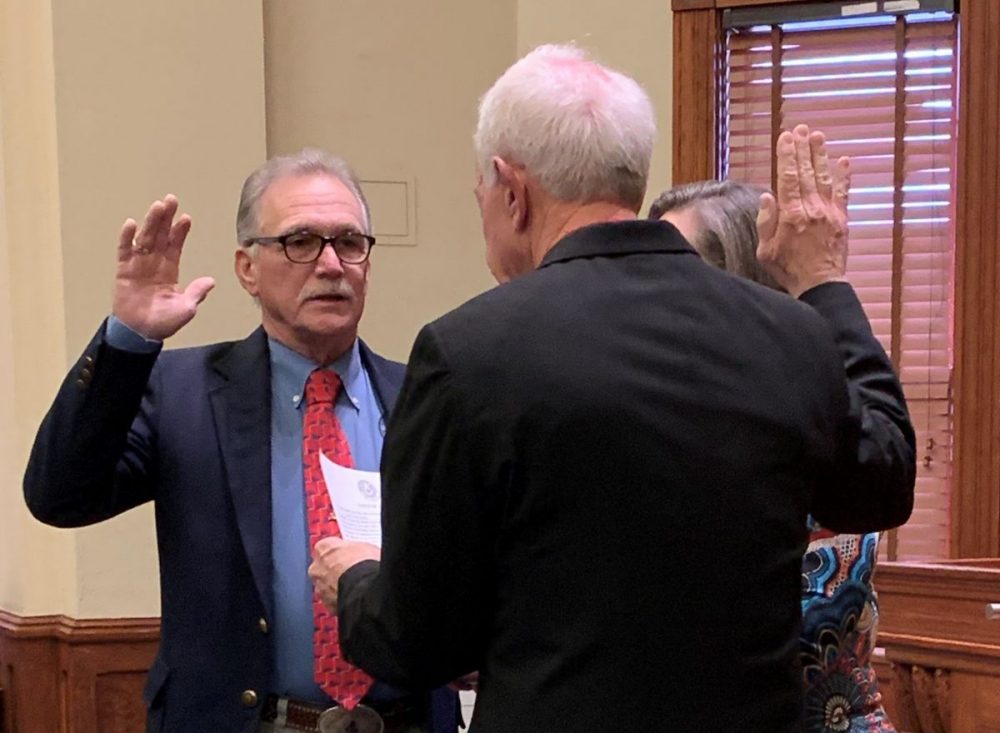 Bartley said it has been an honor to serve on the Commissioners Court for the last 8 years.
"We get criticized for a lot of things.I can assure you the Commissioners Court is working toward the betterment of Hopkins County, and I think each year we see an improving our county. It is a pleasure to work with the Commissioners Court," Bartley said.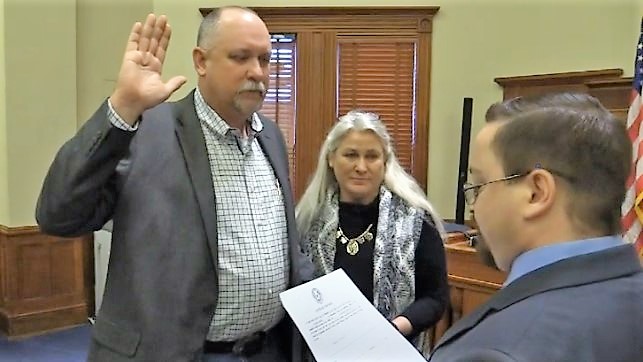 Precinct 2 Justice of the Peace Brad Cummings administered the oath of office to newly elected Precinct 2 Constable John Brian Beadle.
Beadle expressed appreciation to the community for allowing him to work and serve the community in his home county as Precinct 2 Constable. He expressed appreciation for the opportunity to serve Dallas Constable Office Precinct 3 for the past 20 years, but said he is glad to be given the opportunity starting Jan. 1 to serve at home as Precinct 2 Constable.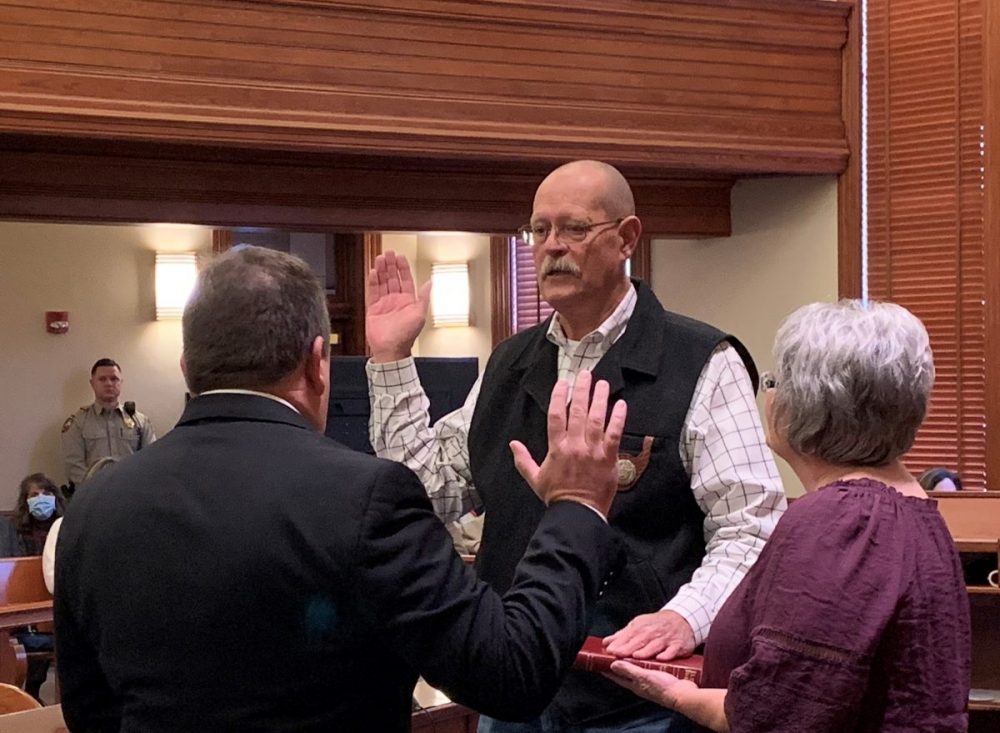 Precinct 1 Justice of the Peace BJ Teer administered the oath of office to reelected Precinct 1 Constable Norman Colyer.
Colyer noted that when he was sworn in the first time, he didn't even have a badge. The late Roger "Tex" Maynard, who was retiring from the post gave his badge to Colyer to wear until he could get one.
The Precinct 1 Constable noted that the swearing-in wasn't the only momentous event that occurred on Jan. 1; Norman Colyer married his wife, Donna, on Jan. 1, 39 years ago .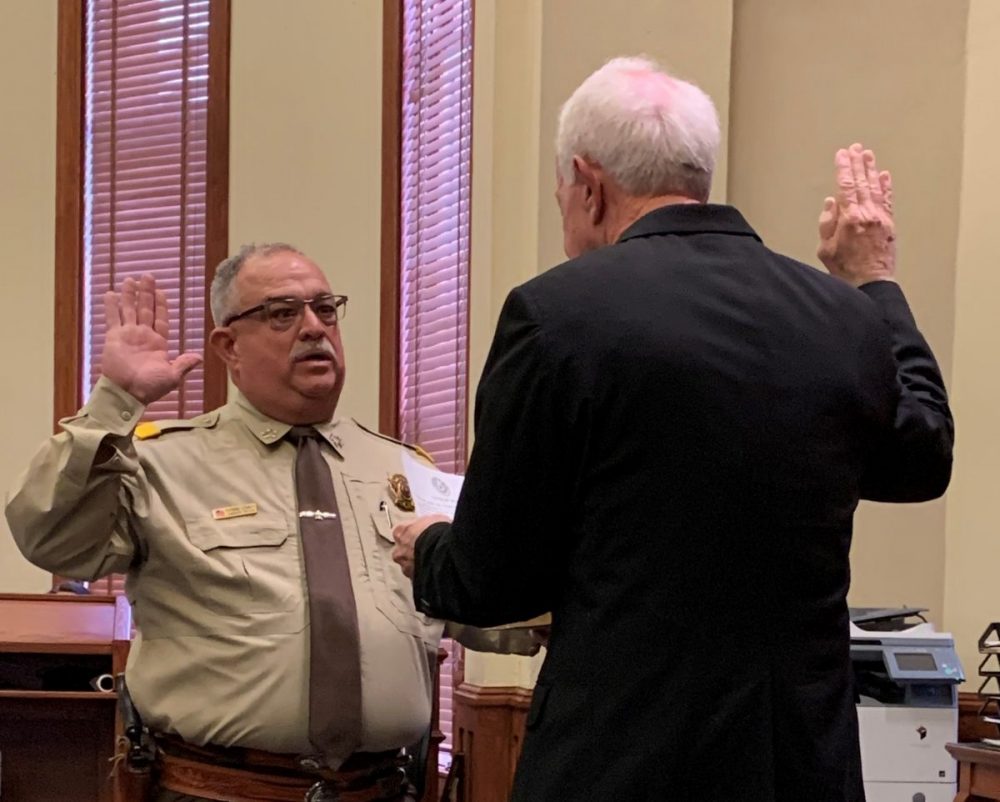 Newsom commended Tatum on the work he had done. Dignitaries and elected officials from other counties visit Hopkins County Sheriff's Office to see and learn how to do things the way they are being done successfully, he noted.
"When I swear these officers in you'll see, we've got a lot of fine officers that I work with that makes us great. So, thank y'all, all," Tatum said.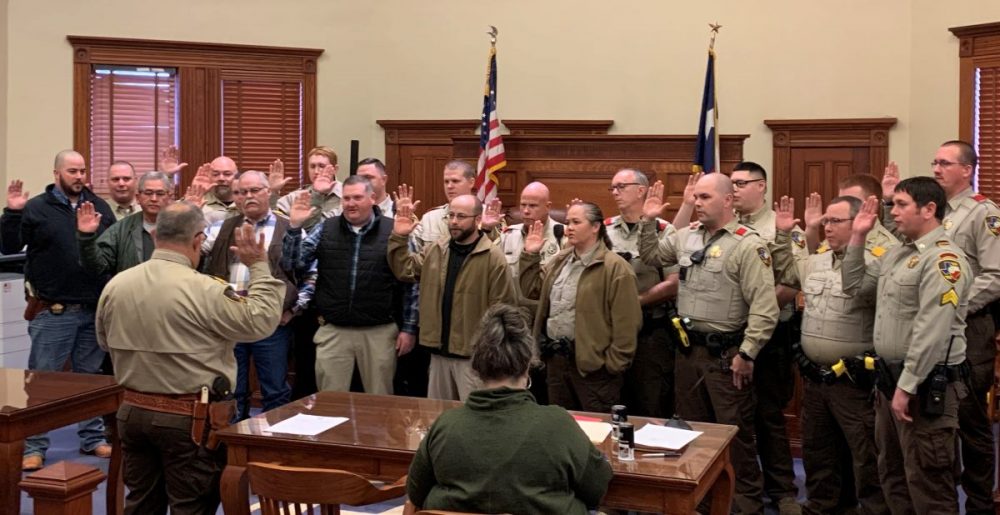 After being sworn in, Tatum then called all of the officers from patrol deputies to investigators and read the oath of office for deputy sheriff, which they each pledged to uphold as well.
After all elected and appointed officials were sworn in, Newsom called the Commissioners Court to convene in session.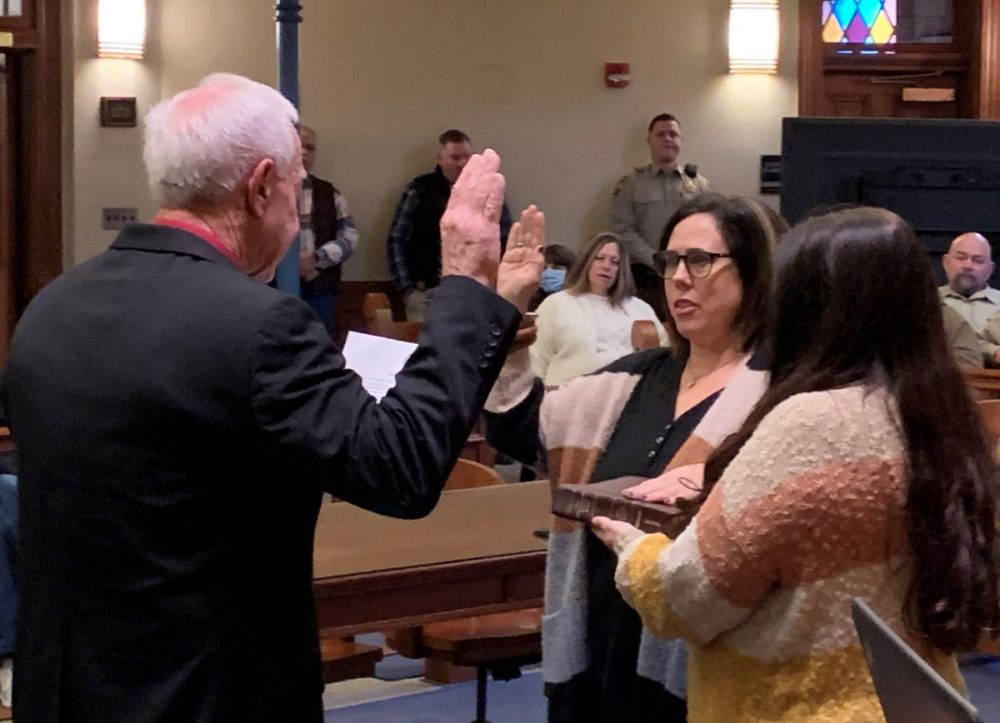 "Something that has to happen for everything to keep happening is that the Commissioners Court now has to approve those bonds that were signed this morning. Every elected officials was bonded, some more than others because some handle more money than others. But we have to have everyone bonded. The Commissioners Court has to meet," Newsom said.
The Commissioners Court then voted affirmatively accepting bonds for county officials.