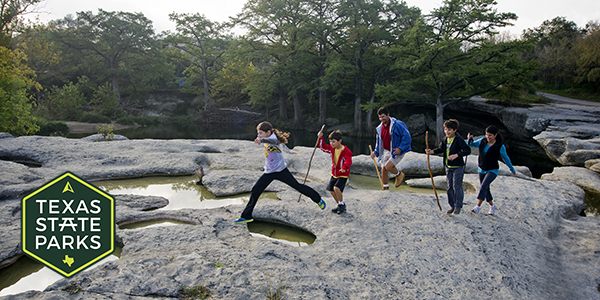 Hopes are high for a happier and healthier new year, and your state parks are here to help! Spending time outside is a great way to get and stay healthy. Whether exercising your body, relaxing your mind, or enjoying some social time, your parks offer safe and healthy outdoor fun for everyone!
You can make reservations for most Texas state parks up to 5 months in advance for overnight visits and up to 30 days in advance for day passes. Capacity limits are in place to ensure the health and safety of our visitors. Before you set out to enjoy the fresh air, make sure to check availability and book your reservation in advance. We highly encourage reservations for day use or for camping. Day pass and camping reservations are highly recommended – make reservations online at tpwd.org or by calling (512) 389-8900.

WALK
Taking a stroll in the park is a great way to enjoy the beauty of the parks and get some exercise at the same time. Many parks are continuing the New Year's Day tradition of First Day Hikes with self-guided hikes and activities on Jan. 1.Hikes and nature walks are offered throughout the year and are a great option for visitors who want to see a park for the first time, or for returning visitors who want to see it from a whole new perspective!
PADDLE
See the parks from a new point of view — on the water! Canoeing, kayaking and paddleboarding are great ways to improve your aerobic fitness, strength and endurance. Grab your gear and your life jacket and head out to a park to enjoy paddling on lakes, rivers, bays, bayous, ponds and oceans. Before heading to the park to hit the water, be sure to check park alerts for availability of boat rentals!
RIDE
Biking can help build cardiovascular fitness, add muscle strength and decrease stress. These are all great reasons to find a trail near you that matches your interests!
CLIMB
Several state parks offer rock climbing and rappelling. Check with park staff before heading to a park to climb, as restrictions may apply. Rock climbing is a great workout for your whole body and promotes heart health and muscle strength.
VOLUNTEER
Few things feel better than helping others, and your state parks offer plenty of ways for you to lend a hand. Opportunities to volunteer are available at almost every state park and offer a great way to give back. Volunteering can also help improve mental and physical health.
RELAX
Kick back, clear your mind and take in all that nature has to offer. Enjoy the beauty of a sunset, sunrise or the night sky. Whether you are going birding, wildlife watching, fishing or picnicking, state parks are the place to get away from the day-to-day and take a break!