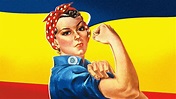 On December 7, 1941, due to the devastating surprise air attack on our ships and planes at the Pearl Harbor base in Hawaii, the United States entered World War II. Great numbers of women, many whom had never worked outside their homes before, became 65% of the work force in 1942, filling a void created as soldiers deployed. Many industry jobs previously closed to them welcomed women to a variety of jobs.

Nineteen-year-old Rosalind Walter took a job on the night shift at a Connecticut airplane factory, and although she never sought fame, she became a lasting symbol of the war on the home front. On fact, she became a household word as 'Rosie the Riveter' in the lyrics of a song written about her, and that name stuck with her for the rest of her life. Truthfully, she and many of 'the greatest generation' continued holding jobs and doing volunteer work to better their communities and the public good long after the war had ended. Walter passed away in May 2020 when she was near 100 years old. It was her can-do spirit which has endeared her image for freedom-lovers until today.
In fact, on Thursday December 3, 2020, U.S. Senator Bob Casey's (Democrat-Pennsylvania) Rosie the Riveter Congressional Gold Medal Act was signed and became law. The legislation's goal is to recognize and honor American women who joined the workforce during World War II. The law will award those women a Congressional Gold Medal. Dubbed as "Rosie the Riveters," women who stepped up during WWII to build vehicles, weapons, and ammo will now be distinguished. "Millions of women helped support our troops during WWII, whether they worked on assembly lines, addressed the troops' medical needs or tended to ships and farms. These 'Rosie the Riveters' have set an example of the 'We Can Do It' spirit for decades, and this recognition of their tremendous service and patriotism is long overdue," said Senator Casey.