Blue Santa received a $2,000 boost from B.T. Medical Supplies LLC and District 7 Masons and to ensure all Hopkins County children have gifts to open Christmas morning.
"The needs this year are greater. The response that we get through our normal toy collection and means has not been the same. We've had a downturn the past several years. As the needs are great, the funds are less. It kind of puts us in a situation," said Hopkins County Sheriff's Office Chief Deputy/Law Enforcement Association member Tanner Crump.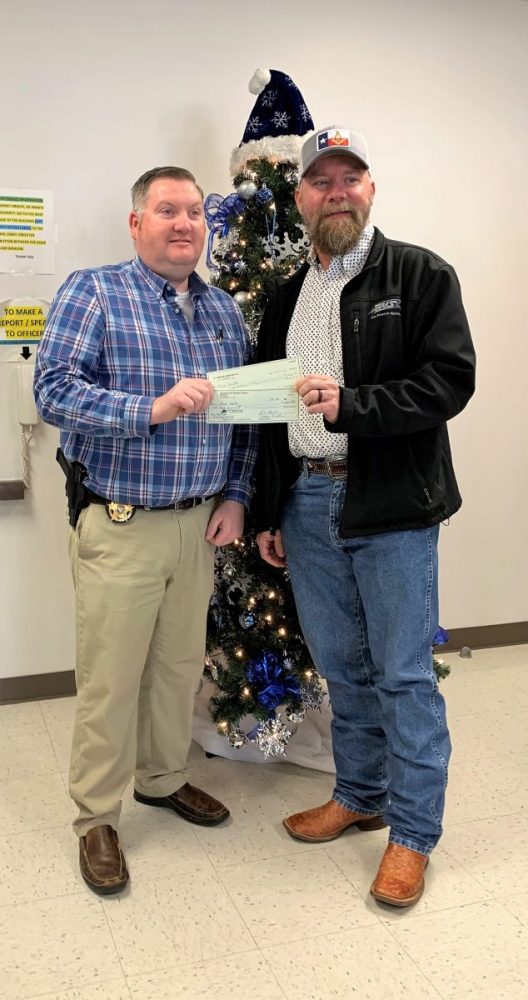 District 7 Deputy Grand Master Clay Bartley Friday morning explained that in the past Hopkins County Sheriff's Office and Law Enforcement Association members have been a big help to the Masons' annual Help A Child benefit for children, not only staffing and working the event but also cooking in the contests as well. The $1,000 donation is a way to help give back to the law enforcement officers who so often support the Masons but also another means to help children in the community.
"We as a District felt that this year has kind of been a rough year for everybody. I think the Blue Santa program is a little short this year too. We just want to reciprocate this year and present the Blue Santa program with a little donation ourselves just to give back, and its also helping the children. We just want to say thanks for all that you do. You have helped us and we'd like to help you back," Bartley told sheriff's office employees present for the Friday morning check presentations.
Masons in District 7, which includes Sulphur Bluff Masonic Lodge No. 246, Sulphur Springs Masonic Lodge No. 221 and Hopkins Masonic Lodge No. 180 (Cumby), contributed $500 for Blue Santa and received a $500 Grand Lodge Of Texas funding match to help Blue Santa. Masons presented a $1,000 check to the Blue Santa program to help stretch the program dollars to provide for more children.
B.T. Medical Supplies LLC Friday morning went a step further, by matching the Masons' donation with a $1,000 check to help the program provide for all 309 children on Blue Santa's list this year.
"This year we've had businesses, groups, organizations come through with checks such as this opportunity that you are helping us with that have really met those needs. So, we are going to be able to do what we need to do for the kids," Crump said. "The good thing about this is we partner with CANHelp. It really goes to the people that need it. That's what makes us feel good, especially from the law enforcement perspective. There are measures in place to make sure it's not abused. Every dollar you give, every toy you give, is going to those people that really need it not just people who say they need it."
That need has been seen at BT Medical Supplies. The business' Linda Drive location allows them to see the increased need among local families. As lines of vehicle waiting to receive help from nearby organizations have spanned blocks, appearing to be three times as many seeking assistance this year than in the past 13 years the medical supply business has been at the current address.
Blue Santa barrels are being collected from partnering locations in the community Friday, and volunteers will be able to use the funds contributed to do some additional shopping Friday to see that the needs of the 309 children on Blue Santa's list are met.
"There are some older kids especially that we need to buy for. We just don't have the stuff yet, but it will be taken care of," Crump said.
"We also set aside money to take care of last minute stuff too," said HCSO Sheriff's Investigator Dennis Findley. "When something comes up that we don't foresee, we have the funds to take care of that as well."
While toy distribution is scheduled Saturday, Dec. 12, the sheriff's office will continue to accept toy and monetary donations for Blue Santa through Christmas. The funds and toys go to families who would not be able to provide Christmas gifts for their children any other way.
"We know that they would not have anything. It's not a choice for their parents. They can't even make that choice. This is the only opportunity they get," Crump said.
"We are still taking toys right up to the last minute. We will have families that come in at the last minute with items. We are not going to turn them away," said Angela Price with HCSO. "We are going to continue to take in donations because families that didn't get registered at the deadline, the sheriff's office will still work to help those. We helped quite a few last year after the distribution date that didn't get signed up."
Any donations made this year that are not needed will be stored for use by the Blue Santa program for Christmas 2021.
"We have a great opportunity for storage with Grocery Supply. They are able to help us keep those toys, keep them itemized so we keep up with what we have as things come in we'll take them all year long," Price said. That's not a problem for us. We will continue that."
Price said Blue Santa will be making a few changes over the next year to make it even easier to donate to the program through the year. As details about those changes are firmed up in 2021, they will be communicated to the community.
"We are excited and enthusiastic about what we are going to do throughout the year to be more prepared for next year because of the downturn we have experienced. We are going to try to do more so that when it comes to crunch time we are not in a bind, where we might be this year. Things are working our really well. Thank you so much," Crump said.