Constable II Bill Allan was recognized by Hopkins County Commissioners Court for his years of service. The court also approved a couple of donations to Precinct 4 and volunteer fire department agreements during the regular session Monday morning.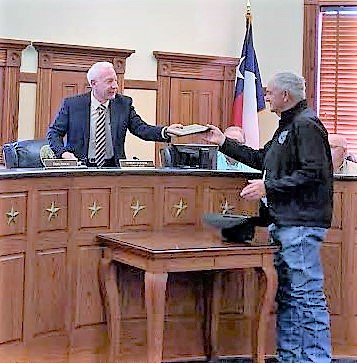 Allan received a plaque for 8 years of dedicated service as Constable for Precinct 2. Allan opted to retire at the end of the year instead of seeking another term in office;
Hopkins County Judge Robert Newsom said while the plaque recognizes Allan only for his 8 years of service as constable, it probably should have included 14 years of service to law enforcement prior to being elected constable.
"The service continues. I know Bill Allan. That's just the kind of guy he is, so congratulations and thank you for your service," Newsom said presenting the plaque to Allan.
"Thank you, I appreciate it," Constable Bill Allan said.
Allan has about 22 years of service to Hopkins County, the majority of it as a volunteer. Allan's service includes 21 in law enforcement. He joined the Sheriff's Posse in 1999 and certified as a peace officer in 2000. He served several years as a reserve deputy with Hopkins County Sheriff's Office, often conducting transports, and filling in when officers were needed over the years. He was elected 8 years ago as Constable II, and has served to terms in the office.
Allan opted not to seek reelection to another term, but to retire at the end of the year. Saltillo resident John Brian Beadle received the Republican nomination in the March Primary Election and was unchallenged in November; he is due to take the oath of office as Precinct 2 Constable in January.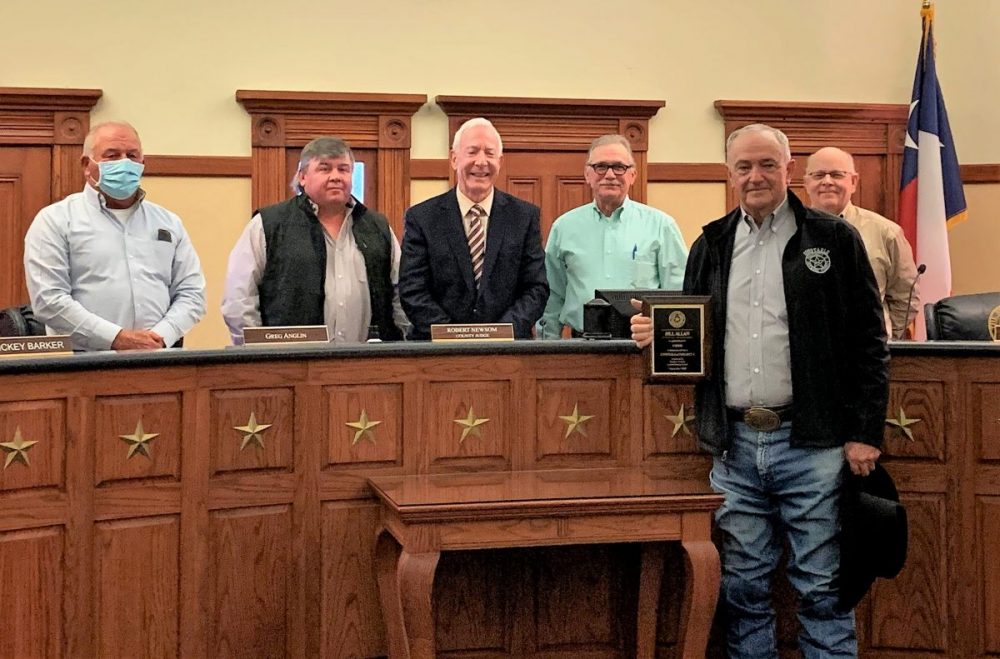 Other Business
The Commissioner Court also approved at the recommendation of the District Attorney the lone bid of $300 submitted for a couch the DA's Office is getting rid of. The couch was paid for using a Crime Victims grant funding, for use in serving those individuals. The couch is no longer needed. The DA's Office has obtained permission from the funding group to sell it.
The court approved two donations, a structure at Pacific Park that was dissembled and donated by the city to the county for reassembly on county property for use by Precinct 4 workers and two garage doors previously used at the old sheriff's office that will be put on the reassembled building.
Also receiving approval of the court were agreements from six remaining volunteer fire departments that had not returned the signed documents as of the last commissioners court meeting. Each VFD was presented with a contract, which authorizes the department to be dispatched and respond to calls in the county, and provides them with benefits from the county including reimbursement for their vehicle insurance and fuel costs, workers compensation and monthly stipends. Approved this week were contracts with Tira, Arbala, Miller Grove, Cumby, Brinker and Sulphur Bluff VFDs.