The Paris Junior College Drama Department will open the free drama "Robert's Universal Robots" or "RUR" on a virtual stage this Thursday. The play will be performed live on Zoom Nov. 12-14 at 7:30 p.m. and at 2:30 p.m. on Nov. 15.
Everyone knows the word, "robot," but not everyone knows it was first introduced to the world in the 1920 science fiction play "RUR" by the Czech writer Karel Čapek, which premiered in 1921. The play begins in a factory that makes artificial people, called roboti (robots), from synthetic organic matter.
As the robots develop into beings closer to humans, conflict grows and the play explores the themes of anger and hatred, class conflict, duty and responsibility, the human condition and individuals versus machines.
Putting on a virtual performance comes with challenges, according to PJC Drama Instructor and play director Will Walker. In addition to face-to-face rehearsals, there have been three Zoom rehearsals to work on simple things such as an actor in one screen handing an object to an actor in another screen.
"We're trying to make it as real as possible to our audience," Walker said. "That's been a huge challenge."
Students have also risen to the challenge.
"Working on 'R.U.R.' was an amazing experience," said Maddy Stuckey, a freshman from Anderson, Texas attending PJC on a drama scholarship, "showing me a new world of acting with peers and friends, and giving me lots of deep thoughts as well as memories I won't soon forget."
The "R.U.R." cast includes Alquist: Andy Johnson; Helena: Madeline Stuckey; Primus: Hunter Anderson; Nana: Jodi O'Connell; Dr. Gall: Lisa Martin; Robot Helena: Annabel Doss; Fabry: Jimmie Sanders; Marius: Kaleb Speakman; Sulla: Juli Salter; Radius: David Forward; Busman: Ivey Barr; Hallemeier: Courtney Hampton Reed; 1st Robot: Robyn Huizinga; 2nd Robot: Brenna Mills; and 3rd Robot: Sarah Rodriguez.
The "R.U.R." crew includes Stage Manager Kayla Freelen and Background Designer Connor Kirkley.Each performance will be capped at 100 attendees in order to manage Zoom's online "waiting room" prior to the show starting. For questions, email [email protected]. To register to attend the digital performance, go to https://parisjc.zoom.us/meeting/register/tJMsce6gqz8oH9xsRXWUxxWGwDsgxigDIZvx.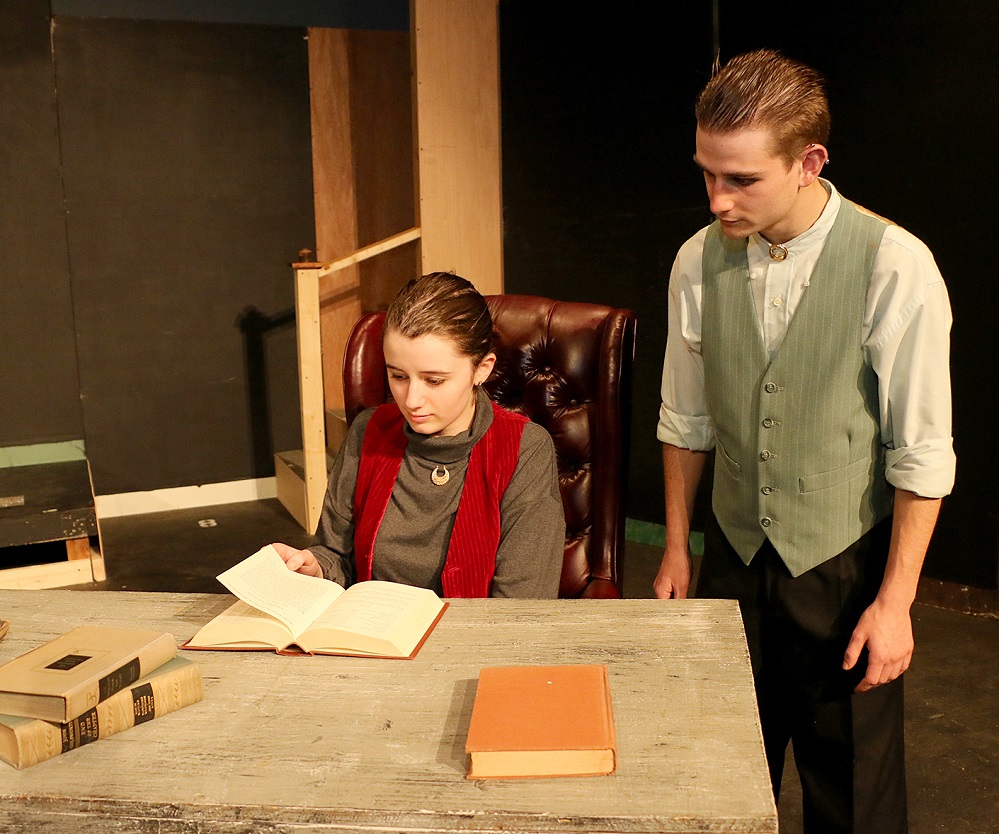 Photo virtual cutline:
RUR-II: Robot Helena looks through a journal as Robot Marius looks on after the robot revolution in which most humans have been eliminated.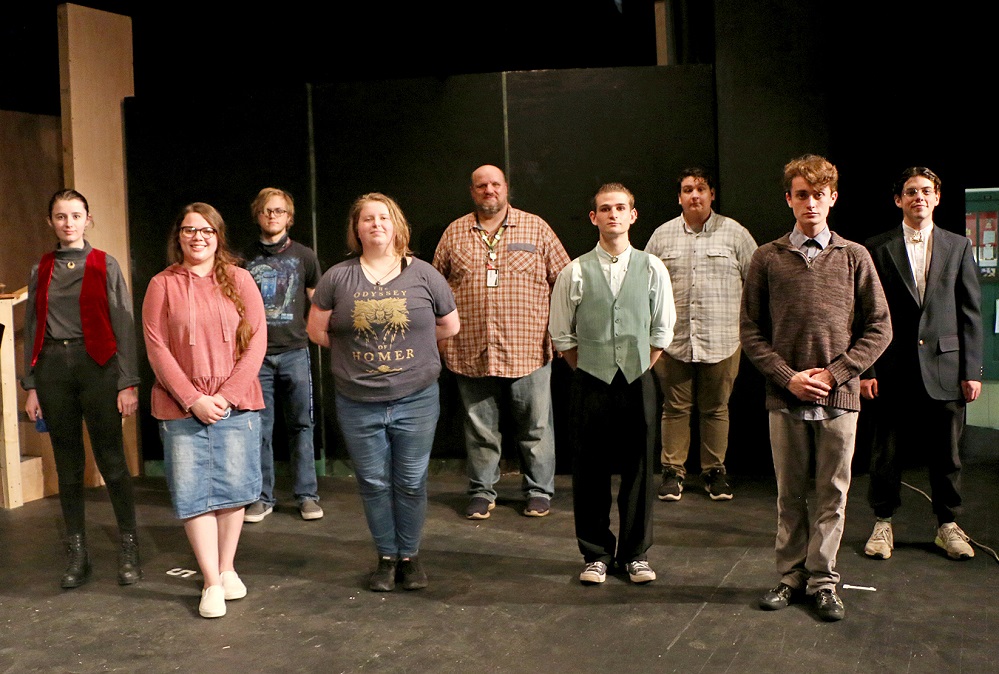 Photo virtual cutline 2:
Working on the "R.U.R" production and other projects from a stagecraft class are, from left, Annabel Doss, Kayla Freelen, David Forward, Maddy Stuckey, PJC Drama Instructor Will Walker, Kaleb Speakman, Connor Kirkley, Hunter Anderson, and Brandon McCormick.
---
Paris Junior College — located in Paris, Texas, about 100 miles northeast of Dallas — has been a part of the Lamar County community since 1924.
Paris Junior College offers Associate in Arts, Associate in Science and Associate in Applied Science degrees, as well as Certificates of Proficiency in technical/workforce fields. The college has expanded its academic curriculum through the years to encourage associate degree and university transfer candidates. Since establishing its first vocational program — jewelry and watchmaking in 1942 — the college has been aggressive in adding technical/workforce programs that will benefit students entering the workforce.
The campus of 54 tree-shaded acres includes 20 major buildings and residence halls and provides students a unique and pleasant environment for learning.
Paris Junior College also operates centers in Sulphur Springs, Texas, and in Greenville, Texas.
Vision
To be the educational provider of choice for the region.
Mission
Paris Junior College is a comprehensive community college serving the region's educational and training needs while strengthening the economic, social and cultural life of our diverse community.