Texas Department of State Health Services in Nov. 4 reports showed one additional COVID-19 fatality for Hopkins County, while the Hopkins County/Sulphur Springs Emergency Management officials in the Nov. 4 COVID-19 update reported 3 additional Hopkins County residents had received positive COVID-19 tests results Wednesday.
HC/SSEM Nov. 4 COVID-19 Update
There 3 new cases make 24 new COVID-19 positives so far this month. That's 3 more than during the first 4 days of October. Last month was by far the worst COVID-19 month for Hopkins County residents since the pandemic began: there were 323 new cases, and at one point as many as 236 active cases (Oct. 28) and 23 deaths.

While the Nov. 4 COVID-19 update did not contain any reports of newly recovered residents, there have been 19 recoveries so far this month, which is 5 more than the first 4 days of October too.
Nov. 4 marked the second day the active case county has risen, increasing from 141 on Monday to 146 on Tuesday and 149 Wednesday. Cumulatively, that makes 708 residents who have tested positive for COVID-19 since March, including 559 who have recovered from the virus.
There was one less patient in the COVID unit at CHRISTUS Mother Frances Hospital Sulphur Springs on Wednesday than the 14 reported on Tuesday, according to the Nov. 4 COVID-19 update. Thirteen cases is the fewest reported by HC/SSEM in the last 6 days.


On Tuesday, 88 tests were performed at the Jefferson Street testing site. That's 303 tests conducted at the site so far this month. Overall, 2,606 oral swab COVID-19 tests have been conducted at 128-A Jefferson Street since the facility opened on Sept. 24.
The Jefferson Street COVID testing site is scheduled to remain open from 9 a.m. to 6 p.m. Mondays-Fridays and from 9 a.m. to 5 p.m. Saturdays during November.
To book a test, go online to GoGetTested.com, select "Red Cross/old Fidelity Express — Texas Emergency Management building at 128-A Jefferson St. in Sulphur Springs" or other desired location, then, Click Book Now, and follow the prompts.
DSHS Fatality Report
The DSHS COVID-19 case count dashboard on Nov. 4 showed 42 fatalities for Hopkins County. That's one more Hopkins County resident whose death certificate shows COVID-19 as cause of death. The death, according to the DSHS Fatalities over Time By County report, occurred on Oct. 28, increasing the confirmed COVID-19 deaths of Hopkins County residents in October to 23.
That's 42 of the 708 Hopkins County residents who have tested positive for COVID-19 who have died since July (when the state began using death certificates to assign COVID-19 deaths to counties).
That puts Hopkins County ahead of Titus County for fatalities. Titus County, which has about 4,300 less residents than Hopkins, has had more than twice as many residents (1,625) who have tested positive, but only 37 fatalities, according to DSHS,
Wood County also was reported to have 1 more COVID-19 death, matching Hopkins County with a total of 42 fatalities. However, only 672 of Wood County's 45,539 residents had tested positive for COVID since March.
In nearby Hunt County, 2,125 of the 98,594 residents have tested positive; and 48 of the COVID-19 patients have died.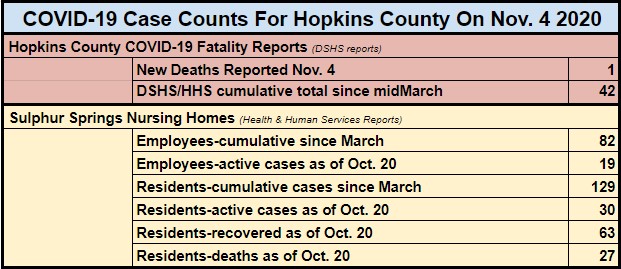 HHS Reports
Texas Health and Human Services for the second day in a row reported COVID-19 deaths at Sunny Springs Nursing & Rehab: 1 death was reported on Oct. 20 and 2 deaths on Oct. 21.
Eighteen additional residents were reported to have recovered from COVID-19 but the facility was also reported to have that many new positive cases, so the active resident case count continued to be 20 at Sunny Springs Nursing & Rehab. That increases the cumulative resident case count to 45. The facility also still had 14 active and 33 cumulative employee cases as of Oct. 21, the most recent data available from HHS on nursing facilities.
Sulphur Springs Health and Rehab had four additional residents test positive for COVID-19, increasing the active case count to 5, with 8 resident recoveries and 2 deaths on Oct. 21, according to the Nov. 4 HHS nursing facility report.
Rock Creek was reported to still have 1 active resident COVID-19 case at the facility on Oct. 21, the Nov. 4 HHS nursing facility report noted.
One additional Carriage House Manor resident tested positive for COVID-19 on Oct. 21, giving the facility 4 active resident cases and 2 active employee cases.
---