The 2020-21 Hopkins County United Way campaign is a success, with the $150,000 goal not only met but exceeded, thanks to generous contributions from the community.
This year's goal was less than in the previous year, to make allowances for the economy during COVID-19, while still helping 19 local agencies. With more than $50,000 turned in last week, the campaign needed less than $11,000 meet the goal.
Today's contributors included fitness centers, some additional county elected officials and employees, contributions from individuals, food businesses , barbers and salons, a veterinarian, brewer, insurance, printing, electric, auto repair and lending businesses, chiropractors, financial institutions, teachers, and health providers. One person was even noted via PayPal to have made a donation from California.
A number of businesses turned in not only donations or pledges from employees, but also corporate or other matches and grants.
City National Bank employees and corporate exceeded the goals for the financial institution. The employees' goal was $4,000; they contributed $6,930. The bank's goal was $2,200, but contributed $4,570, John Sellers reported on Tuesday morning.
CHRISTUS Mother Frances Hospital-Sulphur Springs employees and physicians made very generous contributions, CHRISTUS also is making a gift match, HCUW Executive Secretary Susan Berning reported.
Grocery Supply Co. made a generous corporate contribution and employees also made a pledge, Berning also noted.
Clarion Pointe hotel made a very nice gift which was matched by Helm Investments, Charlotte Henderson reported.
HCUW was approved to receive a grant from Brookshire's to benefit the annual campaign.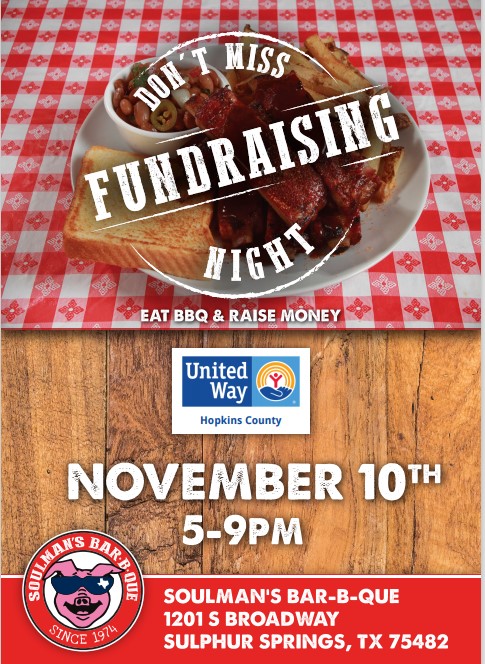 HCUW Campaign Chair Mike Horne reminded everyone at the meeting that Soulman's Bar-B-Que is hosting a Spirit Night giveback event from 5 p.m. to 9 p.m. tonight, Nov. 10, at the business. Flyers are not required; those who'd like to have a percent of the proceeds from their meal contributed to HCUW need only mention United Way to the cashier when paying. Additional information is also available and can be shared on the Hopkins County United Way Facebook page, Horne noted.
When the pledges and donations were totaled Tuesday morning, another $47,084 had been collected over the last week. That put the campaign at $186,313.86 and counting, as there are still some packets out. He encouraged campaign workers to continue following up on donation packets, because every dollar collected goes to help local nonprofit agencies that benefit Hopkins County residents of all ages and segments of the community.
Horne expressed thanks to the businesses that scheduled giveback events, to the AgriLife Extension Office for allowing HCUW to use a room at the facility to host weekly campaign report meetings as well as work and contributions to the campaign, to all of the volunteers who give of their time to work the annual campaign, and most importantly to the businesses and community whose contributions allow HCUW to help 19 different agencies in the community.
"Thank you. I am so humbled by this. Thank you volunteers and contributors. We could not do this without you," Horne concluded.