Getting food, resources and basic services to shut-ins has been a challenge for everyone during the past six months since COVID-19 struck. On October 22, 2020, the North Texas Food Bank recognized the Meal A Day of Sulphur Springs with an Award of Excellence, in appreciation for the excellence in service demonstrated through it's COVID-19 response.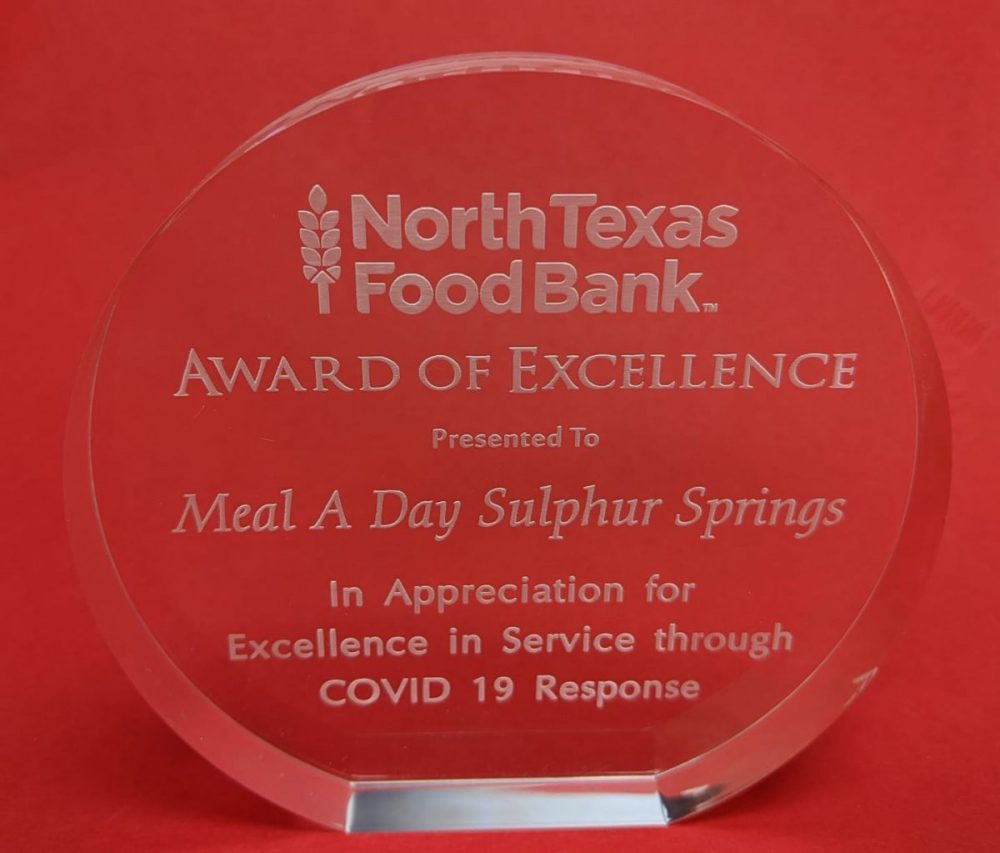 Karon Weatherman, Director of the Sulphur Springs Seniors Center where Meal A Day is prepared and delivered, was appreciative. She responded, "we are trying our best to continue to serve the Senior Citizens of Hopkins County during the COVID 19 Pandemic. I really appreciate all my Volunteer Cooks and Drivers who are making it possible". Daily, about 160 meals are prepared, packaged and delivered to shut-ins on the delivery routes in Sulphur Springs and in the county. The Seniors Center is closed to walk-ins at this time, so the daily food service is basically limited to delivery to the homes of shut-ins. Karon's volunteer staff is at about 70 persons, working in shifts five days per week. Volunteers are still needed, and both temporary volunteers and regular volunteers are welcome.
Right now, Meal A Day is needing help again. Karon stated, "We have a couple that cook on Thursdays who are having to quit at the end of this month. That will leave us short by two volunteers on Thursdays. So, If you can give a few hours of your time to help in your community we would really appreciate the help. The Cooks come in at 7:00 AM and are finished by 11:00 AM. Persons who receive Meal A Day are always appreciative and glad to see us. Most try to meet us at the door if they can. Our volunteers always say that they get more blessings out of Meal A Day than even the people who receive the meals! If you can help or want to ask questions, please contact the Center at 903-885-1661 or email [email protected]".